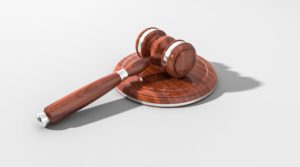 By Alex Prunka & Caroline Hamilton
The Honorable Kenneth Keller "K.K." Hall was born in Greenview, in Boone County, West Virginia on the Spruce Fork of the Little Coal River on February 14, 1918.[1]  When Judge Hall was a young child, his father died. His mother subsequently married C.C. Hopkins, who would go on to serve as Sherriff of Boone County.[2]
Judge Hall was an outgoing young man and captain of the football team at Scott High School in Madison, West Virginia.[3]  He began his studies at New River State, (now known as West Virginia University Institute of Technology) where he lived in the basement of a faculty apartment.[4] While in school, he worked as a janitor.[5]  He transferred to Morris Harvey College in Charleston, and then relocated to Washington, D.C. taking a job with the government and enrolling full-time in a third college.[6]
Judge Hall joined the United States Navy in 1942, earning nine battle stars and was discharged at the rank of Lieutenant in 1945.[7]  He relocated to Morgantown, West Virginia and enrolled in classes at West Virginia University College of Law, earning his degree in 1948.[8]  He returned home and entered private practice in Madison, practicing for four years and serving two-terms as a unanimously elected mayor before running for judge.[9]  Judge Hall was elected Judge of West Virginia's 25thJudicial Circuit at age 34, making him the youngest circuit judge in the state.[10]
Judge Hall served sixteen years as a state circuit judge, demonstrating interest in pursuing other political offices such as Governor, Congress, and the Supreme Court of Appeals.[11]   After a brief tenure as a quasi-judicial hearing examiner for the Social Security Administration, President Richard Nixon appointed Judge Hall to the United States District Court for the Southern District of West Virginia.[12] After less than five years as a District Court Judge, President Gerald Ford appointed him to fill a vacancy on the United States Court of Appeals for the Fourth Circuit.[13]  He received his commission on September 3, 1977.[14]
Judge Hall was well-respected as a colorful and humorous jurist.[15]  As one of his fellow judges said following his death, "I suppose the public sees panels of appellate judges in black robes and believes them to be pretty much fungible. Anyone who ever met Judge Hall would be quickly disabused of that."[16]  Though descriptions as a "strict constructionist" against "judicial activism"[17] often suggest conservative rulings, Judge Hall was an independent thinker.  In one of his most notable dissents, Judge Hall railed against the discharge of a Naval officer under "Don't Ask, Don't Tell" writing: "Lt. Paul Thomassonhas been declared unfit to defend our country based on nothing more than an expression of his state of mind."[18] Judge Hall found himself dissenting from his brethren in another notable case, which posed the question of whether the FDA could regulate tobacco.[19] Judge Hall believed that the FDA did have the authority to regulate tobacco products.[20] Judge Hall assumed Senior Status on February 24, 1998. After a long career reflective of strong conviction, Judge Hall died at his home in Charleston on July 8, 1999.[21] 
---
[1] Forest. J. Bowman, The History of the United States District Court for the Southern District of West Virginia, 109 W. Va. L. Rev. 725, 769 (2007).
[2] Id.
[3] Id.
[4] Id.
[5] Id.
[6] Id.
[7] Id.
[8] Federal Judicial Center, Hall, Kenneth Keller, Fed. Judicial Ctr., https://www.fjc.gov/node/1381671 (last visited Sept. 15, 2018).
[9] Bowman, supra note 1, at 769.
[10] Id. at 769–70.
[11] Id. at 770.
[12] Fed. Judicial Ctr., supra note 7.
[13] Id.
[14] Id.
[15] Bowman, supra note 1, at 768–69.
[16] Id. at 769, n. 175.
[17] Id. at 771.
[18] Thomasson v. Perry, 80 F.3d 915, 954 (4th Cir. 1996).
[19] Brown & Williamson Tobacco Corp. v. Food & Drug Admin., 153 F.3d 155, 176 (4th Cir. 1998).
[20] Id.
[21] Bowman, supra note 1, at 770; Fed. Judicial Ctr., supra note 7.