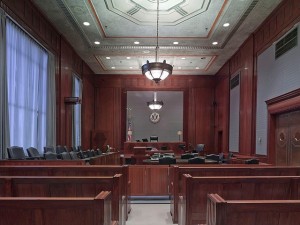 By Daniel Stratton
On September 2, 2015, the Fourth Circuit reversed the conviction of an individual convicted on several charges related to his possession of marijuana with intent to distribute, and remanded for further proceedings in a published opinion in the criminal case United States v. Ductan. The appellant, Phillip Ductan, argued that the district court violated his Sixth Amendment right to counsel by finding that he forfeited his right to counsel and requiring him to proceed pro se, and by subsequently removing him from the courtroom during the jury selection process. The Fourth Circuit, after reviewing Ductan's argument, reversed the lower court's decision and remanded the case back to the district court, holding that the lower court erred in finding that Ductan forfeited his right to counsel.
Ductan's Arrest and Trial
Following a tip from a confidential informant in April 2004, the Charlotte, N.C., Police Department set up a controlled purchase of marijuana from Ductan at a restaurant in Charlotte. After Ductan showed the informant the drugs, the Charlotte Police moved in to arrest Ductan and two men accompanying him. Ductan fled the scene of the crime and in September 2004 was indicted by a federal grand jury on charges of possession of marijuana with intent to distribute, conspiracy to possess marijuana with intent to distribute, and carrying a firearm during a drug trafficking crime. He was arrested in May 2012.
At his initial court appearance, Ductan indicated to the magistrate judge that he had retained Charles Brant, an attorney, to represent him. Brant soon thereafter made a motion to withdraw from the case, explaining that Ductan was uncooperative, would not communicate, and refused to sign a discovery waiver.
At the hearing on Brant's motion, the magistrate asked Ductan whether he intended to hire an attorney or have the court appoint one. Ductan explained that he did not want to have an attorney appointed and that he did not intend to represent himself. He also complained to the magistrate judge that it was difficult to obtain counsel while incarcerated.
The magistrate explained to Ductan that he had three options: represent himself, hire a new attorney, or ask the court to appoint an attorney for him. At this point Ductan began to make nonsensical statements (telling the judge that he was a "secured party creditor," for example). The magistrate asked the prosecutor to explain the charges and potential penalties to Ductan, but Ductan claimed he did not understand what was being told to him and that he was "only here for the settlement of the account." The magistrate questioned whether Ductan was under the influence of drugs or alcohol, but only received nonsense responses in return.
At this point, the magistrate told Duncan that he would not appoint a new attorney because Ductan had waived his right to an appointed attorney through his nonsense answers. The magistrate judge directed a Federal Defender's office to appoint standby counsel for Ductan. In his order granting Brant's motion to withdraw, the magistrate noted that Ductan had not "knowingly and intentionally waived his right to counsel" but because of his evasive responses, Ductan had "forfeited his right to counsel."
Ductan refused to cooperate with Randy Lee, the court appointed standby counsel. About one month later, Lee moved to withdraw as Ductan's attorney. Ductan continued to state that he did not want an appointed attorney because he was seeking private counsel, however the judge denied the motion explaining that Lee would not have to try the case because Ductan had "waived his right to appointed counsel" through his conduct.
At a calendar call, Ductan again stated that he was seeking private counsel, and stressed that he could not properly represent himself. The court explained that although Ductan had waived his right to appointed counsel, he was still free to hire an attorney.
Jury selection began the next day. Ductan told the district court that he was not prepared to move forward with the proceedings. Ductan repeatedly made nonsense statements, interrupting as the judge attempted to call the venire. After refusing the court's instruction to stop, Ductan was held in contempt and removed from the court.
Ductan was allowed to observe the jury selection from a holding cell. Lee had no participation in the jury selection process beyond a brief bench conference; he did not strike any jurors.
Following jury selection, Ductan was allowed back into the courtroom and the judge offered to purge the contempt citation if Ductan would behave. Ductan once again stated that he did not want to represent himself and intended to seek private counsel. When Ductan again refused Lee as his counsel, the judge concluded that Ductan had chosen self-representation because the trial was ready to begin. Ductan told Lee that the judges assessment was not a fair representation of his decision.
During the trial Ductan waived his opening, cross-examined several witnesses and gave a closing argument, occasionally consulting with Lee. Ductan was convicted on all three counts of his indictment. He was sentenced to 24 months in prison for the two drug counts, followed by a 60-month term for the gun conviction.
The Fourth Circuit's Standard of Review for Waiving Right to Counsel
Typically, a defendant's failure to object in district court to an alleged error would bar a review on appeal absent plain error. However, in certain circumstances the Circuit can review under a de novo standard. There is a circuit split regarding the proper standard of review when a defendant does not object to a right-to-counsel waiver. Previously, the Fourth Circuit has acknowledged there is uncertainty surrounding the question, but declined to determine a specific standard. At different times, the Fourth Circuit has applied both a de novo standard and a plain error standard.
In the lone published decision applying a plain error standard, U.S. v. Bernard, the defendant sought to remove his attorney and proceed pro se. Despite a history of mental illness, the court granted that defendant's motion because at the time of the hearing to decide, he was still represented by counsel who advocated for the defendant's ability to represent himself. Because the counsel bore "substantial responsibility for allowing the alleged error to pass without objection" the Fourth Circuit concluded that the defendant had failed to preserve his claim of invalid waiver under a plain error review. Conversely, in cases where a defendant waives counsel while being completely unrepresented, some circuits will review de novo because it is inappropriate to expect a defendant to know fully the perils of self-representation. Such reasoning also applies when an unrepresented defendant does not raise a proper objection to a court's finding of forfeiture.
The Fourth Circuit Addresses Tension Between Sixth Amendment's Right to Counsel and Right to Self-Representation
Under the Sixth Amendment of the U.S. Constitution, a criminal defendant has a right to counsel before he can be convicted and punished to imprisonment. At the same time, the Sixth Amendment also protects a defendant's right to self-representation. Because access to counsel can often be essential in asserting other rights a defendant may have, the Fourth Circuit presumes that the right to counsel is the default position. To this end, the Fourth Circuit has never held that anything less than a waiver relinquishes one's right to be appointed counsel. In order to assert a right to self-representation, a defendant must "knowingly and intelligently" forgo the benefits of representation after being made aware of the dangers and disadvantages of self-representation.
The U.S. Supreme Court has not "established precise guidelines for determining whether a waiver is knowing and intelligent." In the Fourth Circuit, a court must find that (1) an individual's background, (2) appreciation of the charges against him and their potential penalties, and (3) understanding of the pros and cons of self-representation support the conclusion that a waiver to counsel is knowing and intelligent. In order to prevent a defendant from manipulating the system, the waiver must also be "clear and unequivocal."
Did Ductan Unequivocally Waive His Right To Counsel?
As a starting point, the Fourth Circuit applied a de novo standard of review to Ductan's case. The court explained that Ductan's case differed from Bernard because at the time that the magistrate judge determined Ductan had forfeited his right to counsel, Brant had already successfully withdrawn from the case. Thus, Ductan was left without representation and was in a position where he could not be fully expected to understand the necessity of raising a proper objection to the lower court's decision.
Ductan argued to the Fourth Circuit that at no point did he ever "clearly and unequivocally" elect to proceed without counsel, as required by the court's case law. He also argued that his waiver was not knowing and intelligent because the judge did not complete the required inquiry to ensure that Ductan was fully aware of his decision's impact.
Throughout the trial, Ductan continued to reiterate his desire to retain counsel. The Fourth Circuit noted that the magistrate judge was correct in determining that Ductan had not knowingly and intentionally waived his right to counsel, but that the magistrate was wrong in concluding that he had forfeited that right through his "frivolous arguments and answers to questions." While acknowledging that Ductan had been uncooperative in his interactions with the trial court, the Fourth Circuit explained that it had never previously held that a defendant could forfeit their rights to counsel. Thus, Ductan could not have forfeited his right to counsel through his actions.
The Fourth Circuit also found that Ductan had never waived his right to counsel either. Because Ductan never expressed any desire to proceed pro se, the lower court should have insisted on appointed counsel against Ductan's wishes in the absence of an unequivocal request to proceed on his own.
Finally, the Fourth Circuit explained that even if Ductan had unequivocally requested to proceed pro se, he still would not have waived his right to counsel because the lower court never finished its inquiry to ensure his decision was knowing and intelligent. Although the judge attempted to start the inquiry, Ductan's nonsense answers prevented the court from fully exploring his understanding of the proceedings. The Fourth Circuit found that in such a situation it was a requirement that Ductan be appointed counsel "until he either effected a proper waiver or retained a lawyer."
Ductan's Case is Reversed and Remanded on First Claim; Court Declines to Address Second Claim
Ultimately, the court held that the lower court erred in finding that Ductan forfeited his right to counsel or made a valid waiver of that right. The court vacated Ductan's conviction and remanded for a new trial. Judge Diaz, writing a concurring opinion, explained that while the court was right to remand on the first claim, the second claim regarding what happened during jury selection also provided an independent grounds for relief as well.