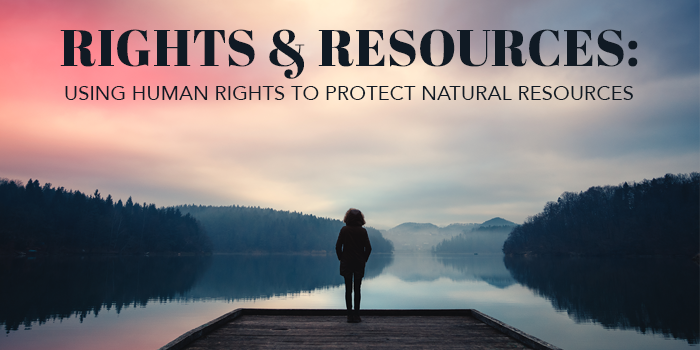 The Wake Forest Law Review's Spring Symposium will bring together environmental and human rights experts from around the world to discuss the interplay between our human rights and natural resources. Throughout the day, the symposium will address everything from how the exploitation of resources affects marginalized and underrepresented groups in the United States to the inhumane treatment of environmental defenders abroad. 
Friday, April 6, 2018
8:30 a.m. to 4:30 p.m.
Wake Forest University School of Law, Room 1312
CLE Credits: 5 Hours

This event is free and open to the public.
Please REGISTER today to help accommodate all of our guests for parking.
Would you like to view the symposium remotely?
Session 1 – http://go.wfu.edu/0s0 (8:45 AM to 1:15 PM)
Session 2 – http://go.wfu.edu/sq6 (2:45 – 4:30 pm)
---
Please direct any questions to either Ashley Barton at bartae15@wfu.edu or Katie Baiocchi at baiocm15@wfu.edu
---
Parking
A campus parking map can be found here. Reserved parking will be available for registered symposium attendees at the Winston-Salem First Church parking lot (Letter A on the map). A shuttle will run from that parking lot to the law school. Alternatively, it is only a 5-7 minute walk to the Worrell Professional Center.
---
Agenda
8:45

 Suzanne Reynolds

Dean's Welcome

 

9:00

 

Statement of the Current Issues

 

 

John Knox

U.N. Special Rapporteur on


 


Human Rights & the Environment

 

9:30

 

First Session:


 


Overview of Intersection Between


 


Environment & Human Rights Law
Moderated by:


 


Dedee Delongpré Johnston

 

Erin Daly

Delaware Law School

The Constitutional Landscape at


 


the Intersection of Environmental


 


& Human Rights: Trends and


 


Innovations.

 

Elisa Morgera

University of Strathclyde

Human Rights & Natural Resources:


 


What is the Relevance of the


 


Convention on Biological Diversity?

 

Dan Magraw

Johns Hopkins University, SAIS

States' Responsibilities and Duties


 


with Regard to the Relationship


 


Between Climate Change


 


and Human Rights

11:00

Mini-Session:

Miles Silman

Director, Center for Energy,


 


Environment, and Sustainability
11:30

 

Second Session:


 


International Practitioners'


 


Perspectives on Laws Protecting


 


Environmental Defenders Abroad

Q&A Session


 


Moderated by:


 


Justin Catanoso

John Knox

U.N. Special Rapporteur on


 


Human Rights & the Environment

 

Phyllis Omido

2015 Goldman Prize Recipient

 

Carole Excell

World Resources Institute

1:15
Lunch

2:45

 

Third Session:


 


A Domestic Perspective on


 


Environmental & Human Rights Law
Moderated by:


 


Dick Schneider 

 

David Salvesen

University of North Carolina

 Climate Change Stories


 


of North Carolinians

 

Leslie Griffith

Southern Environmental 


 




Law Center

Transparency Begins at Home:


 


Access to Information and


 


Justice in North Carolina


 

Noah Hall

Wayne Law

 Flint and the Failure of


 


Environmental Law
4:30

 

Adjourn

 
---
Presenter Biographies
Session 1: Overview of Intersection Between Environment & Human Rights Law
Moderator: Dedee Delongpré Johnston
Dedee DeLongpré Johnston is the current Chief Sustainability Officer at Wake Forest University.  She received her bachelor's degree in business administration from the University of Southern California with a concentration in entrepreneurial studies as well as a master's of business administration with an emphasis on sustainable management from the Presidio Graduate School in San Francisco.  She has spent over 20 years of her career working in nonprofit management, focusing on education, sustainability, and the environment.  Prior to her time as the Chief Sustainability Officer, she was the director of the University of Florida's Office of Sustainability and received the President's Medallion for her work there.  She was also the executive director of the non-profit Sustainable Alachua County and the U.S. program director for Fauna and Flora International.  She was a founding board member of the Association for the Advancement of Sustainability in Higher Education and now participates on the advisory and editorial boards.  She is also currently serving on the board of directors for the Piedmont Environmental Alliance.
---
Erin Daly
Erin Daly is a Professor of Law at Delaware Law School, Widener University, and served as Interim Dean and Vice Dean of the Law School in 2013-2015. Daly Serves as the Director of the Global Network for Human Rights and the Environment, as the U.S. National Correspondent for the for the Centre international de droit comparé de l'environnement (CIDCE) at Limoges, and as the Vice President for Institutional Development at the Université de la Fondation Aristide in Haiti. She is also the co-founder of Dignity Rights Project at Delaware Law School. Daly has written extensively on comparative constitutional law and transitional justice issues, including the books Dignity Rights: Courts, Constitutions, and The Worth of the Human Person. She has also co-authored, Global Environmental Constitutionalism, Judicial Handbook on Environmental Constitutionalism, Environmental Constitutionalism in Context, & New Frontiers in Environmental Constitutionalism, and Encyclopedia of Human Rights and the Environment: Indivisibility, Dignity and Legality (forthcoming).
---
Elisa Morgera
Elisa Morgera specializes in international, European, and comparative environmental law, with a particular focus on the interaction between biodiversity law and human rights (particularly those of indigenous peoples and local communities), equity and sustainability in natural resource development, oceans governance, and corporate accountability. Professor Morgera has also researched the environmental dimensions of the external relations of the European Union (EU) and has conducted field work in over thirty countries. She was awarded a European Research Council Starting Grant (2013–2018) on the legal concept of fair and equitable benefit-sharing in different areas of international law (environment, oceans and human rights) and a grant under the Ecosystem Services for Poverty Alleviation (ESPA) program specifically investigating fair and equitable benefit-sharing in international fisheries law and policy (2015–2016).
---
Dan Magraw
Daniel Magraw is a Senior Fellow at the Foreign Policy Institute at John Hopkins School of Advanced International Studies. From 2002-2010, he was the President and Chief Executive Officer of the Center for International Environmental Law (CIEL). From 1992-2001, he was the Director of the International Environmental Law Office at the U.S. Environmental Protection Agency. Prior to his time at the EPA, Daniel Magraw was a Professor of Law at the University of Colorado and also a Visiting Scientist at the National Center for Atmospheric Research. Daniel Magraw has lectured both in the United States and abroad on a wide variety of international law topics, and has also authored books and articles on various international law subjects. His areas of scholarship include international trade and the environment, women's human rights, international environmental law, the Iran-U.S. Claims Tribunal, accountability in international dispute settlement, sustainable development, and philosophy and environmental protection. Daniel Magraw earned his J.D. degree from the University of California, Berkeley, where he was Editor-In-Chief of the California Law Review and a founder of the Berkeley Law Foundation. He also has a B.A. with high honors in Economics from Harvard University.
---
Session 2: International Practitioners' Perspectives on Laws Protecting Environmental Defenders Abroad
Moderator: Justin Catanoso
Justin Catanoso is a current professor and former director of journalism at Wake Forest University. His work at the University includes leading a study abroad program for journalism, the first ever offered in travel journalism at Wake Forest University. He has worked at daily newspapers in New Jersey, Pennsylvania, Tennessee, and North Carolina and his freelance work has appeared in the New York Times, L.A. Times, BusinessWeek, National Public Radio, National Geographic Daily News, among other numerous periodicals. Catanoso is winner of the Science-in-Society Award for his coverage of fraud in the tobacco industry in 1992; his current work focuses on the impact of climate change on various ecosystems as well as the intersection of faith, environmental protection, and international climate change policy. He has covered four UN climate summits: in Peru, France, Morocco, and Germany as a regular correspondent for MongaBay.com, a leading environmental news site.
---
Phyllis Omido
Phyllis Omido is the Co-Founder and Executive Director of the Center for Justice, Governance, and Environmental Action, an environmental and human rights advocacy organization based in Mombasa, Kenya. Ms. Omido was hired to work in community relations at a factory and uncovered that the factory was exposing the community to dangerous chemicals. Soon after she started this job, her infant son became very ill. Doctors discovered that her young son had high levels of lead in his body from her breast milk. As a result, Ms. Omido founded the Center and started her advocacy work to expose the danger in her community. She won the Goldman Environmental Prize in 2015 after helping to force the shutdown of the plant and continues to work to keep the Kenyan government accountable to making the country safe for all people.
---
Carole Excell
Carole Excell is the Acting Director of the World Resources Institute's Environmental Democracy Practice. She is also the Project Director for the Access Initiative, where she works on access to information, public participation, and access to justice issues around the world. Previously, she served as the Coordinator for the Freedom of Information Unit of the Cayman Islands Government. Ms. Excell has worked with The Carter Center as a Field Representative in Jamaica on their Access to Information Project. While with The Carter Center she acted as the Secretariat to the Volunteer Attorneys Panel, which is a panel of lawyers who provide services to civil society organizations and indigent persons. Ms. Excell is an Attorney-at-law with a LLB from the University of the West Indies and Certificate of Legal Education from the Norman Manley Law School, Mona. She also has a Masters Degree in Environmental Law from the University of Aberdeen in Scotland. She worked for seven years for the Government of Jamaica on environmental and planning issues both at the Natural Resources Conservation Authority and then at its successor, the National Environment and Planning Agency.
---
Session 3: A Domestic Perspective on Environmental & Human Rights Law
Moderated by Dick Schneider
Dean Schneider's academic and professional activities are wide ranging and national and international in scope. He teaches a variety of courses related to international business and environmental law, and also teaches a popular course called Law, Literature, and Culture.  He directs Wake Law's Vienna Summer Program and works in that capacity closely with faculty at the University of Vienna.  Dean Schneider has followed Russia closely throughout his career, and is currently at work on a paper about Leo Tolstoy and natural law.  He currently works and advises on a number of environmental matters in his capacity as Legal Chair of the North Carolina Chapter of the Sierra Club, which is a large and influential grassroots environmental organization.  The North Carolina Chapter recently won a case before the U.S. Supreme Court. He has served on the Environmental Committee of the North Carolina State Bar Association and was a board member of the ABA Central and East European Law Initiative. After law school, Dean Schneider worked for a law firm in New York and Brussels, where he did a wide range of international transactions.
---
David Salvesen
David Salvesen conducts research, teaches, mentors students, and provides planning and technical assistance to communities across North Carolina. Salvesen's research focuses on land use policies, issues, and trends and their impact on the environment and the quality and character of communities. He has taught graduate courses on land use, natural disasters, and dispute resolution and undergraduate courses on sustainable development. Salvesen is interested in helping communities grow in ways that are sustainable and grounded in processes that are inclusive, equitable, and collaborative. Over the past two years, Salvensen has been producing short documentaries about how climate change is affecting people across North Carolina.
---
Leslie Griffith
Leslie Griffith is an associate attorney at the Southern Environmental Law Center ("SELC") in Chapel Hill, North Carolina. There, Leslie's priority projects include working to protect the public and environment from coal ash contamination resulting from unlined pits throughout North Carolina and the Southeast and the North Carolina Garden Highway project, which the North Carolina Department of Transportation finally abandoned in late 2016. Prior to joining SELC, Leslie attended Duke University and Harvard Law School where she was a member of the Harvard Law Review. Following law school Leslie clerked at the U.S. Court of Appeals for the D.C. Circuit.
---
Noah Hall
Noah Hall's expertise is in environmental and water law, and his research focuses on issues of environmental governance, federalism, and transboundary pollution and resource management. He graduated from the University of Michigan Law School and University of Michigan School of Natural Resources and Environment, concentrating in environmental policy. He joined the Wayne Law faculty in 2005. For the 2014-15 academic year, he served as the Law School's associate dean for student affairs. Previously, he taught at the University of Michigan Law School and was an attorney with the National Wildlife Federation, where he managed the Great Lakes Water Resources Program for the nation's largest conservation organization. Hall also worked in private practice for several years, representing a variety of business and public-interest clients in litigated and regulatory matters. In 2016, Hall was appointed special assistant attorney general for Michigan, joining the special counsel team for the Flint water investigation. Hall is founder of the Great Lakes Environmental Law Center, a nonprofit environmental organization that provides legal assistance to community organizations, environmental non-governmental organizations, and local, state and regional governments. He continues to serve as the Great Lakes Environmental Law Center's scholarship director.
---