Please REGISTER today to help accommodate all of our guests for parking.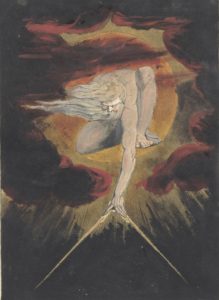 Summary
Many wrongly believe that emotion plays little or no role in legal reasoning. However, developments in neuroscience, philosophical studies of emotion, and a careful review of analysis in the real world proves otherwise. Emotion can be cognitive, cognition can be emotional, and there is a "co-dependence" between reason and emotion. Thus, the role cognitive emotion plays in the development, teaching, and practice of law is gaining significant scholarly attention. Interdisciplinary scholars examining the interplay between law and emotion also believe this area needs to be further explored in today's society with increased globalism, nationalism, and partisan divides.
This symposium will bring together experts from academia, legal practice, neuroscience, philosophy, and communication to explore emotion and other affective experience. It will delve into common core themes regarding cognitive emotion and the law, and it will explore the brain science underlying emotion and reason. This symposium will further discuss how law students, law professors, lawyers, and judges can use principles of emotional intelligence to foster better legal reasoning and results as well as to foster health, respect, and inclusivity. This symposium will also examine specific areas where greater emotional intelligence can enlighten all of us. These specific areas include racism, homophobia, sexism, extreme rhetoric, public health, and responses to public disasters.
Approved for 5.75 CLE Credits
---
Itinerary
Friday, February 22, 2019
Wake Forest University, Benson Center, Room 401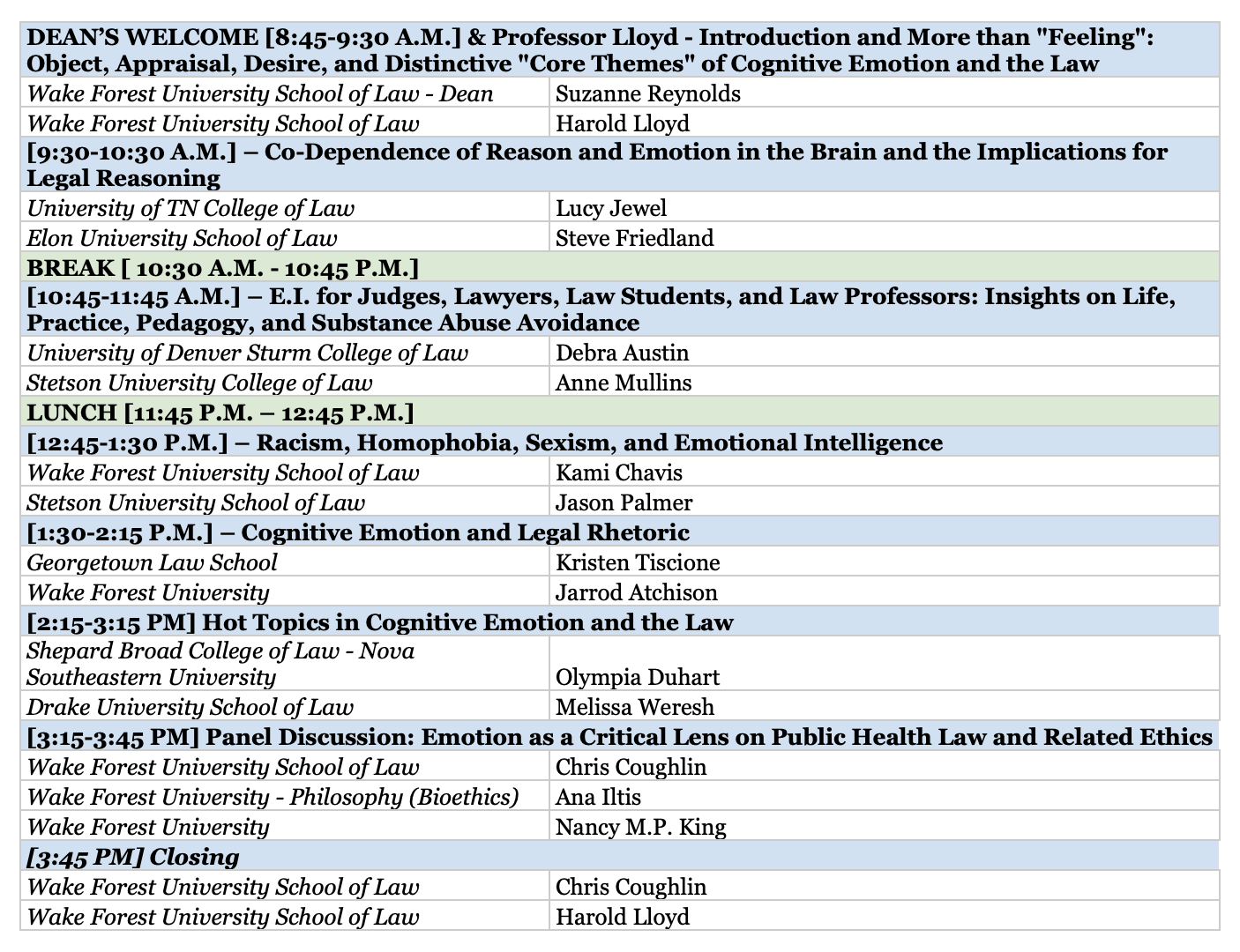 ---
Presenter Bios
Kami Chavis
Kami Chavis is a Professor of Law and Director of the Criminal Justice Program at Wake Forest University School of Law, where she is also the Associate Provost for Academic Initiatives. She received her J.D. from Harvard Law School and has worked in both private practice and as an Assistant U.S. Attorney for the District of Columbia. In that capacity, she briefed and argued appeals before the District of Columbia Court of Appeals, the District's highest court. Professor Chavis often presents and writes on law enforcement issues, especially police and prosecutorial accountability; federal hate crimes legislation and enforcement; and racial profiling. She was elected to the American Law Institute in 2012.
---
Harold Lloyd
Harold Lloyd graduated with High Honors from Duke University School of Law and Magna Cum Laude from Davidson College, where he majored in philosophy. He was Vice President and General Counsel of The Fresh Market, Inc. for approximately ten years. Before that, he was a partner with the firm of Tuggle, Duggins & Meschan, P.A. where he had a general commercial practice. He is now a Professor of Legal Writing at Wake Forest University School of Law. Professor Lloyd's legal interests include law and language, semiotics of law, rhetoric, interpretation theory, commercial transactions, the practical art of commercial negotiation and drafting, and legal education theory and reform. In addition to his legal scholarship, Professor Lloyd enjoys genealogy, verse composition, and the art of translation.
---
Debra Austin
Debra Austin teaches Lawyering Process and Advanced Legal Research at the University of Denver Sturm College of Law. After graduating with her Bachelor's degree from the University of Colorado at Boulder, Doctor Austin obtained her J.D. from the University of San Francisco and her Ph.D. from the University of Denver. Doctor Austin worked as a law clerk at Wendle, Rosen, Black, Dean & Levitan in Oakland, California and then for West Publishing Company. Her research focuses on how neuroscience and psychology may improve the well-being of law students, lawyers, and judges. Outside of the classroom, Doctor Austin stays involved in the legal community as she serves on the AALS Balance in Legal Education Section Board, teaches CLE courses, and participates in the Rhone Brackett Inn of Court.
---
Jason Palmer
Jason Palmer is a Professor of Law at Stetson University College of Law. Before joining the faculty at Stetson, Professor Palmer was a professorial lecturer in law at George Washington University Law School. Professor Palmer spent four years in Switzerland, serving as a claims judge for the Claims Resolution Tribunal for Dormant Accounts, working for the United Nations Compensation Commission, and working for the Europa Institute at the University of Zurich. He has also worked in private practice in Washington, D.C. and for the Department of State as a team leader, representing the U.S. in international arbitration cases. Professor Palmer's writings have been published in both books and articles, and he is a corresponding editor for International legal Materials, published by the American Society of International Law.
---
Jarrod Atchison
Jarrod Atchison is an Associate Professor of Communication at Wake Forest University, where he teaches courses such as Argumentation Theory and Debate and Advocacy. He is also the Director of Debate for the Wake Forest University Debate Team, which has won multiple national championships. Dr. Atchison received his Ph.D. in Communication from the University of Georgia, where he served as an assistant debate coach. As an undergraduate at Wake Forest University, Dr. Atchison was a Presidential Scholar in debate who was ranked the third overall individual speaker at the 2001 National Debate Tournament. Dr. Atchison has published extensively on the study of argumentation and rhetoric and researches 19th-century American public address, with an emphasis on the American Civil War. Additionally, Dr. Atchison researches public argument, including the best practices for intercollegiate debate. Dr. Atchison has been nominated twice for the Reid-Doyle Prize for Excellence in Teaching at Wake Forest University and was honored with the George Ziegmueller Award by the National Debate Tournament Board of Trustees in 2015. In the summer, Dr. Atchison works with high school students on the art of debate and was consistently voted the top-ranked lecturer at the University of Michigan summer debate workshop.
---
Nancy King
Nancy M.P. King is a Professor of Social Sciences and Health Policy at Wake Forest School of Medicine. She has written and taught extensively on issues related to informed consent in health care and research, medical decisions at the beginning and end of life, the development and use of experimental technologies, and international and cross-cultural questions in human subjects research. King has served on numerous hospital ethics committees, and in 2015 she was appointed to the DHHS Secretary's Advisory Committee on Human Research Protections, to advise on ethical and regulatory issues arising in research with human subjects. King has published many articles and books on ethical issues in medicine and research. King earned her B.A. from St. John's College a received her J.D. from the University of North Carolina School of Law.
---
Christine Nero Coughlin
Christine Nero Coughlin is a Professor of Legal Writing at the Wake Forest University School of She has received multiple awards for her teaching and scholarship, which are concentrated in the areas of legal analysis and writing, bioethics, and health care law. She is a co-author of two leading textbooks, A Lawyer Writesand An Advocate Persuades.She also has faculty appointments at the Wake Forest University Graduate School of Arts and Sciences and the Wake Forest University School of Medicine's Translational Science Institute. In addition, she is a core faculty member at the Wake Forest University Center for Bioethics, Health and Society. Professor Coughlin earned her J.D. from the Wake Forest University School of Law. She then clerked for the late Honorable Thomas M. Moore, Chief United States Bankruptcy Judge for the Eastern District of North Carolina and spent several years in private practice, representing health care entities and health care providers.
---
Steve Friedland
Before becoming a founding faculty member of Elon University School of Law, Senior Scholar and Professor of Law Steve Friedland served as an Assistant U.S. Attorney for the District of Columbia and as an Assistant Director of the Office of Legal Education in the Department of Justice. Friedland, who was appointed in 2017 as associate dean for innovation in engaged learning in law, is well-recognized in the legal community across the globe for his innovative and hands-on approach to teaching. Since 1990, he has won numerous teaching awards at several law schools and was named one of the best law teachers in America in a book by the Harvard University Press. Friedland received his J.D. with honors from Harvard Law School, and his L.L.M. and J.S.D. from Columbia University, where he was a Dollard Fellow in Law, Medicine and Psychiatry.
---
Ann Mullins
Anne Mullins is an associate professor at Stetson University where she teaches research and writing. She received her J.D.., with honors, from the University of Chicago Law School, and earned her A.B. from Dartmouth College. Before beginning her academic career at the University of Oregon, Professor Mullins clerked for the Honorable Jacques L. Wiener of the U.S. Court of Appeals for the Fifth Circuit and the Honorable Sarah S. Vance of the Eastern District of Louisiana. She later practiced complex commercial litigation at Susman Godfrey LLP representing clients against high-stakes claims. Professor Mullins's published articles and scholarship focuses on judicial writing through a cognitive theoretical framework, as well as innovative pedagogy, developing professional identity, and legal research instruction. Prior to joining the faculty at Stetson University, Professor Mullins taught at the University of North Dakota School of Law, where she was awarded the Webb Faculty Achievement Award in 2016 for her scholarly productivity after she co-authored the book North Dakota Legal Research. Professor Mullins currently serves as a member of the Discipline-Building Working Group, the Scholarships Grants Committee, and the Administrative Options Committee at the Legal Writing Institute. In 2017, Professor Mullins received the Robert Johnson Fellowship for her national leadership in legal writing.
---
Lucy Jewel
Lucy Jewel is a Professor of Law and the Director of Legal Writing at the University of Tennessee College of Law. Professor Jewel has taught for more than ten years, beginning at Atlanta's John Marshall Law School. Before teaching, Professor Jewel practiced for a number of years as a commercial litigator with Wachtel, Masyr, and Missry, LLP. Professor Jewel's teaching and scholarship is varied and extensive, spanning the areas of professionalism, technology, and rhetoric. Her writing and research has appeared in publications such as the Yale Journal of Law and Technology, the University of Southern California Interdisciplinary Law Journal, and the Minnesota Journal of Law, Science, and Technology. Professor Jewel is also a prolific speaker, presenting both nationally and internationally on her research, current issues, and trends in the legal community.
---
Kristen Tiscione
Kristen Tiscione is a Professor of Law at Georgetown University Law Center, where she specializes in Legal Research and Writing. Professor Tiscione graduated with a Bachelor of Arts from Wellesley College before attending Georgetown for law school. After graduating from Georgetown, Professor Tiscione joined the law firm of Kirkland & Ellis in Washington DC, where she specialized in commercial litigation, including products liability and copyright infringement. Professor Tiscione began teaching Legal Researching and Writing at George Washington University National Law Center before moving to Georgetown to teach full-time in 1994. Her scholarly interests include classical and contemporary rhetoric, as well as empirical research in the current practice of law and its implications for legal pedagogy.
---
Melissa Weresh
Professor Weresh, who received her undergraduate degree summa cum laudefrom Wake Forest University and her J.D. from the University of Iowa, joined the faculty at Drake Law School in 1997, after working as an associate at Buckingham, Doolittle & Burroughs. Now a Dwight D. Opperman Distinguished Professor of Law, Professor Weresh's accomplishments include, serving as the Past President of the Legal Writing Institute; acting as a member of the LexisNexis Law School Publishing Advisory Board; serving as an Editorial Board Member of Legal Communications & Rhetoric (JALWD); and acting as the Past Chair of the American Association of Law Schools Section on Teaching Methods. Professor Weresh has also received numerous accolades for her accomplishments, such as, the American Inns of Court Warren E. Burger Prize; the University of Iowa College of Law Alumni Service Award; and the Thomas F. Blackwell Memorial Award for Outstanding Achievement in the Field of Legal Writing. With areas of expertise in legal writing, appellate advocacy, environmental law, and ethics and professional responsibility, Professor Weresh has authored numerous publications focused in these areas. The breadth and depth of her scholarship, and her contributions to legal education have also made her a highly regarded speaker at law schools across the country.
---
Ana S. Iltis
Ana S. Iltis, PhD is Director of the Center for Bioethics, Health and Society and Professor of Philosophy at Wake Forest University. She was named the inaugural Carlson Professor in University studies, as of July 1, 2018. The Carlson Professorship is awarded to an outstanding teach-scholar so exhibits exemplary interdisciplinary scholarship, teaching, and student mentorship. Professor Iltis holds a PhD in Philosophy from Rice University. Prior to joining Wake Forest University, she was Associate Professor of Health Care Ethics and PhD Program Director in the Center for Health Care Ethics at Saint Louis University and held an appointment in the Department of Medicine at Washington University in St. Louis where she taught research ethics. She has published widely in bioethics, serves on several National Institutes of Health data safety monitoring boards and holds a wide range of editorial positions, including: Co-Editor of the Annals of Bioethics book series (Routledge), Senior Associate Editor of The Journal of Medicine and Philosophy (Oxford University Press), and Co-Editor of Narrative Inquiry in Bioethics (Johns Hopkins University Press).
---
Olympia Duhart
In 1989, Professor Duhart earned her B.A. in English from the University of Miami. After graduation, she worked as a high school English teacher and staff reporter for The Miami Herald. In 2003, Professor Duhart graduated magna cum laude from Nova Southeastern University's Shepard Broad College of Law. She worked in the litigation department at Ruden McClosky before joining the faculty at Shepard Broad College of Law in 2005. Besides teaching legal writing and constitutional law, Professor Duhart serves as Associate Dean for Faculty and Student Development and directs the law school's Legal Research and Writing Program. Throughout her career, Professor Duhart has been selected for several awards and honors, including the Stephanie Aleong Impact Award and NSU's Student Bar Association's Professor of the Year Award. In 2014, Professor Duhart was also chosen for the Lawyers of Color's 50 Under 50 list, a catalog of minority law professors impacting legal education. From 2014 to 2016, Professor Duhart served as the co-president of the Society of American Law Teachers, and she continues to serve on its Board of Governors.