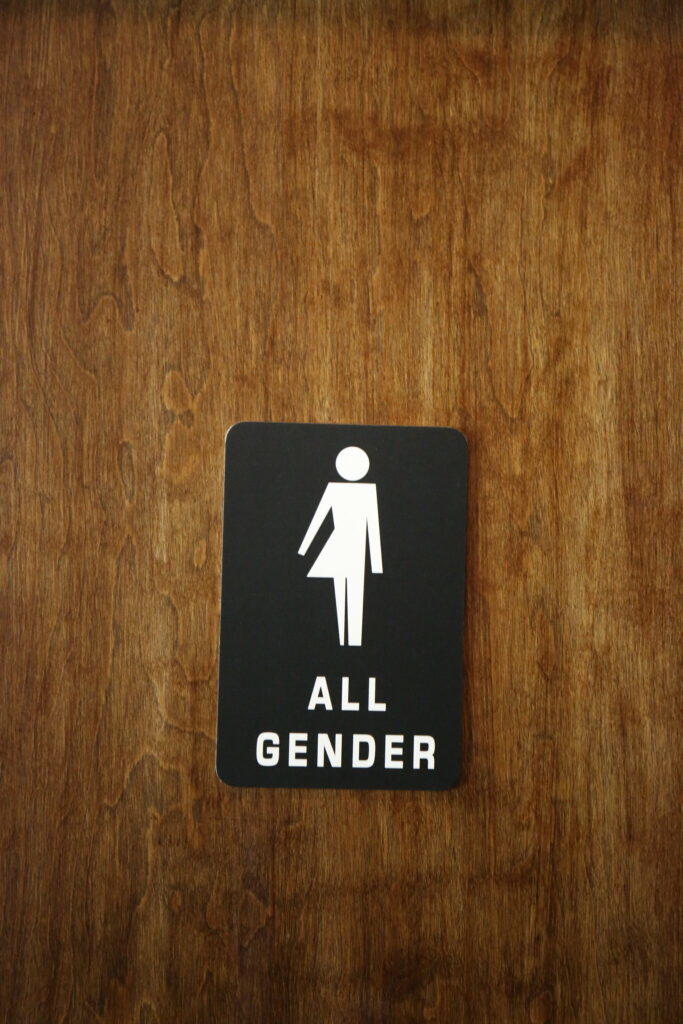 By Maggie Martin
2016 brought with it a bleak reality for LGBTQ+ individuals living in North Carolina as the North Carolina General Assembly proposed House Bill 2 ("HB 2"), better known as the "Bathroom Bill."[1]  HB 2 allowed local boards of education to establish multiple occupancy, single-sex bathrooms based on biological sex, as stated on a birth certificate, rather than gender identity.[2]  Despite claims that the bill would protect cisgender women by restricting access to public restrooms for transgender individuals, HB 2 directly "oppose[d] LGBT rights," "perpetuate[d] negative stereotypes about women and men, undermin[ed] sex equality and ma[de] people more vulnerable to discrimination, mistreatment, and assault."[3]
Although HB 2 was not passed, the LGBTQ+ community faced an uphill battle ahead due to the compromise reached between Democrats and Republicans—House Bill 142.[4]  The compromise of House Bill 142 provided that local governments could not pass any anti-discrimination ordinances for the following three and a half years.[5]  The state legislature preempted local ordinances by "vest[ing] itself with sole authority to regulate on matters related to discrimination in places of public accommodation."[6]
Despite public outrage, the ban on local anti-discrimination laws effectively halted queer activism in regard to legislation for years.[7]  Without an ability to affect legislative change, the queer community experienced high rates of depression and anxiety, finding the political reality to be a "painful reminder[] that one is seen as less than human by the government."[8]  These feelings of hopelessness are unsurprising given that HB 2 "facially discriminated against LGBT persons," was "laden with discriminatory intent against the LGBT community," "disproportionally burdened LGBT individuals," and "lacked a rational relationship to any legitimate governmental interest."[9]  Yet, 2021 marked the end of the dark "Bathroom Bill" era, and marked the beginning of a reignited fight towards LGBTQ+ legal equality.[10]
In 2021 alone, sixteen cities and counties enacted bans against LGBTQ+ workplace discrimination.[11]  Overall, these ordinances are directed at preventing discrimination in private employment and public accommodations, yet some have taken the extra step of preventing housing discrimination.[12]  For example, Mecklenburg County passed new "employment protections" which "apply to employers of all sizes, as opposed to many existing state and federal laws that limit discrimination policies against employers with at least 15 employees."[13]
However, counties still may not legislate "the right of transgender individuals to use the bathroom that corresponds with their gender identity—a key component of the HB 2 controversy."[14]  In spite of this notable limitation, these ordinances mark a movement in North Carolina counties towards offering increased protections to the LGBTQ+ community, emphasizing that the process is not "to penalize, but to educate."[15] 
Since some local ordinances have only gone into effect in 2022, many impacts have yet to be seen.[16]  However, the positive trends to be expected—such as facilitating conversations on how to promote equality and preventing instances of systemic exclusion—cannot be achieved without further action.
North Carolina is behind many other states regarding LGBTQ+ equality.  According to the Human Rights Campaign, North Carolina is categorized as a "High Priority to Achieve Basic Equality" state, the second lowest category used in the 2021 State Equality Index.[17]  Although the existence of any local anti-discrimination ordinances is a large step towards equality, there is still much work to do, and several parties must do more to prevent North Carolina from falling further behind. 
First, residents should read their local ordinances to understand the enforcement mechanisms, which often require individual reporting of discrimination to make the ordinances effective.[18]  Next, businesses should update their Equal Employment Opportunity Commission and harassment policies to come into compliance.[19]  Further, employers should update training materials to include a section on how to recognize and report LGBTQ+ discrimination.[20]  
Despite the immediate pressure to bring policies into compliance, local ordinances offer North Carolina businesses a chance to embrace a more diverse workforce.  A more "inclusive workplace" offers "better staffing opportunities," an "improved fit with customers, suppliers, and the public at large," "improved morale, customer relations, and business opportunities."[21]
On the state level, North Carolina should pass a uniform state law on anti-discrimination to prevent the confusion that results from a patchwork of protection.  For example, only sixteen cities and counties out of one hundred counties have passed any LGBTQ+ protections since the restriction expired.[22]  These local ordinances vary as to what protections are offered with no discernable pattern.[23]  This lack of uniformity leaves LGBTQ+ individuals in a state of uncertainty as to what rights they enjoy in the city where they work, the city where they live, and any city to which they may travel.  Indeed, legal protections only generate change when minority groups have full knowledge on how to exercise their rights.  If this system continues, North Carolina garners the risk that any legal change is a mere gesture that does not improve the quality of life for queer residents or visitors.
Further, if North Carolina continues debating protections that are standard in many other states, North Carolina could continue to fall behind as pressing issues arise.  By still debating employment and housing discrimination, North Carolina is unprepared to consider upcoming concerns such as protecting "the ability of transgender youth to live lives as their authentic selves, be that in school classrooms, school bathrooms, school sports," and preventing laws that "allow people to refuse to provide medical and other services to LGBTQ+ people if they assert a religious justification for doing so."[24]
Ultimately, the current wave of local action is a positive sign towards LGBTQ+ equality in North Carolina.  Yet, North Carolina has the opportunity to do more by using the current traction to promote a broader discussion about inclusivity on a state-wide level—bringing North Carolina to the forefront in fighting for LGBTQ+ rights.
---
[1] H.B. 2, 2016 Gen. Assemb., 2d Extra Sess. (N.C. 2016).
[2] Id. at 115C-521.2(a)(1).
[3] Susan Hazeldean, Privacy as Pretext, 104 Cornell L. Rev. 1719, 1724 (2019).
[4] H.B. 142,  2017 Gen. Assemb., Reg. Sess. (N.C. 2017).
[5] Id.
[6] Marka B. Fleming & Gwendolyn McFadden-Wade, The Legal Implications Under Federal Law When States Enact Biology-Based Transgender Bathroom Laws for Students and Employees, 29 Hastings Women's L.J. 157, 169 (2018).
[7] Dan Avery, LGBTQ Rights Fight Reignited 4 Years After N.C.'s 'Bathroom Bill' Controversy, NBC News (Dec. 8, 2020, 2:31 PM), https://www.nbcnews.com/feature/nbc-out/lgbtq-rights-fight-reignited-4-years-after-n-c-s-n1250390.
[8] Heidi M. Levitt et al., Balancing Dangers: GLBT Experience in a Time of Anti-GLBT Legislation, 56 J. of Counseling Psych. 67, 67 (2009); S. G. Home et al., The Stench of Bathroom Bills and Anti-Transgender Legislation: Anxiety and Depression Among Transgender, Nonbinary, and Cisgender LGBQ People During a State Referendum, 69 J. of Counseling Psych 1, 1 (2022).
[9] Isaac Saidel-Goley, Romer v. Evans and House Bill 2: Déjà Vu All Over Again, 38 Women's Rts. L. Rep. 23, 53 (2016).
[10] Chris Marr, North Carolina Anti-Bias Laws Sprout as "Bathroom Bill" Era Ends, Bloomberg L. (Nov. 22, 2021, 5:30 AM), https://news.bloomberglaw.com/daily-labor-report/north-carolina-anti-bias-laws-sprout-as-bathroom-bill-era-ends.
[11] Id.; Kyle Ingram, LGBTQ-Inclusive Non-Discrimination Ordinances Take Effect in Four NC Communities, NC Pol'y Watch (July 2, 2021), https://ncpolicywatch.com/2021/07/02/lgbtq-inclusive-non-discrimination-ordinances-take-effect-in-four-nc-communities/.
[12] Ingram, supra note 11.
[13] H. Bernard Tisdale & Michelle E. Phillips, North Carolina's City of Charlotte and Mecklenburg County Adopt Nondiscrimination Ordinances, Nat'l L. Rev. (Oct. 11, 2021), https://www.natlawreview.com/article/north-carolina-s-city-charlotte-and-mecklenburg-county-adopt-nondiscrimination#:~:text=The%20employment%20protections%20will%20make,%2C%20gender%20identity%2C%20gender%20expression%2C.      
[14] Ingram, supra note 11.
[15] Id.
[16] Marr, supra note 10.
[17] 2021 State Equality Index, Hum. Rts. Campaign, https://reports.hrc.org/2021-state-equality-index-2?_ga=2.26722229.967223460.1643076904-1525029062.1643076904.
[18] Ingram, supra note 11.
[19] Tisdale & Phillips, supra note 13.
[20] Id.
[21] Michael T. Zugelder, Toward Equal Rights for LGBT Employees: Legal and Managerial Implications for Employers, 43 Ohio N. Univ. L. Rev. 193, 215 (2017).
[22] Marr, supra note 10; see also NC County Formation, State Libr. N.C., https://statelibrary.ncdcr.gov/research/genealogy-and-family-history/family-records/nc-county-formation#:~:text=Today%20North%20Carolina%20has%20100,last%20two%20counties%20in%201911 (last visited Feb. 8, 2022).
[23] See, e.g., Britt Clampitt, City Council Expands Nondiscrimination Protections to New Classes, City of Charlotte (Aug. 10, 2021), https://charlottenc.gov/newsroom/cityhighlights/Pages/Nondiscrimination-Ordinance.aspx (describing a Charlotte ordinance that provides LGBTQ+ protections in public accommodations and employment); Joe Killian, Greensboro, Durham and Orange County All Pass LGBTQ-Inclusive Non-Discrimination Ordinances, The Pulse (Jan. 20, 2021), https://pulse.ncpolicywatch.org/2021/01/20/greensboro-durham-and-orange-county-all-pass-lgbtq-inclusive-non-discrimination-ordinances/#sthash.j3DqXZGF.J3MKsoMX.dpbs (describing Greensboro and Durham ordinances that offer LGBTQ+ protections in employment and housing).
[24] Hum. Rts. Campaign, supra note 17.
---
Post image by Bradley Griffin on Flickr