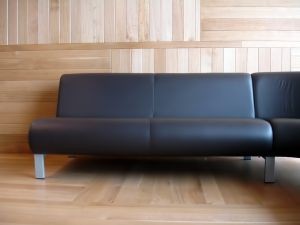 By Sarah Walton
On June 18, 2015, the Fourth Circuit issued a published opinion in the civil case of Design Resources, Inc. v. Leather Industries of America. The court held that Defendants' statements about leather products were not false or misleading descriptions of fact, and therefore did not meet the standard for false advertising.
Origins of the Dispute
Plaintiff Design Resources, Inc. ("DRI") produces furniture coverings and sells them to furniture manufacturers. DRI created a product known as "NextLeather®" ("NextLeather"), which consisted of 61% polyurethane, 22% poly/cotton, and 17% leather. DRI subsequently reached out to Dr. Nicholas Cory ("Cory"), a leather chemist and director of a laboratory owned by Leather Industries of America ("LIA"). DRI sought Cory's opinion on whether it could market its product as "leather." Cory told DRI that its product could not be marketed as leather, but suggested that it could market the product as "bonded leather" instead. DRI adopted Cory's suggestion and marketed its product as bonded leather. In anticipation of the Spring High Point Furniture Market, DRI sold samples of NextLeather to various furniture manufacturers. A few weeks before the High Point event, Ashley Furniture ("Ashley") ran an advertisement ("Ashley Advertisement") in a trade magazine that read, "Is It REALLY LEATHER? … Some upholstery suppliers are using leather scraps that are mis-represented as leather …. Know What You Are Buying[.]" Several months later, Cory was quoted in two articles ("Cory's Statements"), published one week apart, in which he stated that (1) referring to bonded leather products as "leather" was an outright deception, and (2) bonded leather products had the potential to confuse customers because the term did "not represent [the product's] true nature."
The District Court Grants Summary Judgment for Cory and Ashley
In February 2010, DRI filed a complaint against LIA, Cory, Ashley, and Todd Wanek, Ashley's president, asserting false advertising claims under the Lanham Act and violations of North Carolina and Washington law. DRI moved for partial summary judgment and Ashley and LIA filed cross-motions for summary judgment. The district court granted Defendants' motions and reasoned that (1) the Ashley Advertisement and Cory's first statement were true, and (2) Cory's second statement was an opinion, rather than a description of fact.
The Lanham Act
A plaintiff who alleges a violation of the Lanham Act must prove that (1) the defendant made a false or misleading description of fact; (2) the misrepresentation was material; (3) the misrepresentation actually deceived or had the potential to deceive; (4) the defendant placed the false statement into interstate commerce; and (5) the plaintiff was injured or is likely to be injured as a result of the misrepresentation.
DRI Failed to Prove that Defendants' Descriptions Were False or Misleading Descriptions of Fact
The Fourth Circuit focused on the false or misleading element. For the Ashley Advertisement, the court reasoned that DRI could not prove that it was false or misleading because the advertisement only targeted products wrongly marketed as leather. As a result, the court concluded that customers would not be able to make inferences about DRI's product because it was properly marketed as bonded leather.
For Cory's Statements, the Fourth Circuit reasoned that Cory's first statement was true because referring to bonded leather products as "leather" was misleading. The Fourth Circuit also concluded that Cory's second statement about the confusing nature of the term "bonded leather" was not a fact, but rather an opinion. The court reasoned that Cory hypothesized that "bonded leather" could potentially confuse customers, but his hypothesis had no basis in fact. As a result, the court held that DRI could not succeed on the first element of the Lanham Act.
The Fourth Circuit Affirms the District Court's Grant of Summary Judgment
Because DRI could not prove that the advertisements and statements at issue were false or misleading descriptions of fact, the court concluded that DRI could not succeed on its false advertising claim. Accordingly, the Fourth Circuit affirmed the district court's grant of summary judgment to Cory and Ashley.