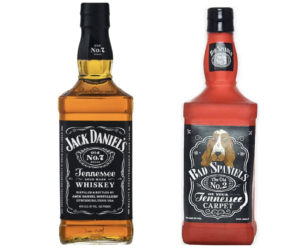 By Cameron Bray
On March 22, 2023, the Supreme Court will hear oral arguments[1] in the case of Jack Daniel's Properties, Inc. v. VIP Products LLC,[2] which will determine the fate of the controversial "Bad Spaniels"[3] rubber dog toy.[4] The Bad Spaniels dog toy was created in 2013 by the Respondent, an Arizona limited liability company in the business of designing and selling dog toys for retail,[5] known commonly as "VIP."[6]
Besides "Bad Spaniels,"[7] VIP also sells the Tuffy or "Tuffy's Dog Toy" brand[8] and the "Mighty" line for stronger dogs.[9] The Petitioner, Jack Daniel's Properties, Inc. is a Delaware corporation, with its principal place of business in California, that owns and licenses the trademarks and trade dress used for wholesale of Jack Daniel's whiskey.[10]
The Tennessee corn mash whiskey for which Jack Daniel's is known has been sold domestically since 1875[11] and was halted briefly by Prohibition.[12] At the trial court level, Senior Judge McNamee of the United States District Court for the District of Arizona granted partial summary judgment upon cross-motions of the parties[13] and the court also entered a permanent injunction, enjoining VIP from commercialization (marketing), distribution, or sale of "Bad Spaniels" after a four-day trial without a jury.[14]
Reviewing VIP's appeal[15] and the trial record for legal conclusions de novo,[16] the United States Court of Appeals for the Ninth Circuit unanimously[17] found that "Like the greeting cards in [Gordon v. Drape Creative, Inc.],[18] the ['Bad Spaniels'] dog toy, although surely not the equivalent of the Mona Lisa, is an expressive work."[19] It applied the well-known Rogers[20] test for expressive works under the Lanham Act[21] and held that the Bad Spaniels dog toy was indeed entitled to First Amendment protection.[22]
In terms of First Amendment law[23] and intellectual property ("IP"),[24] Jack Daniel's Properties, Inc. v. VIP Products LLC is the most important constitutional IP case that the Supreme Court has reviewed since Matal v. Tam[25] six terms ago.[26] It has the power to abrogate Rogers and decide what parodies may be protected under the Free Speech Clause of the First Amendment, which is now in conflict with the two commonly claimed trademark actions under the Lanham Act.[27] If the Court is divided in its opinion, over two dozen amicus briefs have been filed in the case,[28] including from the United States and from corporations such as Nike, Inc., and from nonprofits such as the Foundation for Individual Rights and Expression.[29]