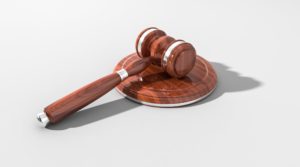 By Ryan Meier
Judge John D. Butzner, Jr. was born on October 2, 1917 in Scranton, PA.[1] His interest in law and justice began at an early age, as he frequently visited his attorney uncle Billy Butzner who practiced at Butzner & Hicks in Fredericksburg, VA. After graduating magna cum laude from the University of Scranton in 1939, Judge Butzner attended the University of Virginia School of Law where he served on the board of editors for the school's Law Review publication.[2]
Shortly after graduating with an LL.B. degree in 1941, Judge Butzner returned to Fredericksburg to practice with his uncle at Butzner & Hicks.[3] Despite his budding legal career in Virginia, Judge Butzner practiced for only a year before enlisting in the United States Air Force to aid the effort in World War II. He served as a staff sergeant for the Weather Service in Alaska until 1945 before returning to private practice in Fredericksburg.[4] While practicing, Butzner litigated in a variety of areas including contract law, criminal law, and civil rights cases in addition to serving as a city attorney for six years.[5]
In 1958, Butzner began his judicial career when he was sworn in as an associate judge of the new 15th Judicial Circuit of Virginia where he would serve for two years.[6] Judge Butzner officially became a Virginia Circuit Court judge for the 39th judicial Circuit in 1960. Two years after his appointment as a state court judge, on May 15, 1962, President John F. Kennedy nominated Judge Butzner for a vacant seat as a federal judge in the Eastern District of Virginia.[7] His appointment was confirmed by the Senate a month later on June 15, 1962.[8]
On June 27, 1967 President Lyndon B. Johnson nominated Judge Butzner to fill a seat vacated by J. Spencer Bell in the Fourth Circuit.[9] Judge Butzner was confirmed and received commission by the Senate nearly a month later on July 31, 1967.[10] Over his 33-year tenure on the Fourth Circuit, Judge Butzner would rule on a number of cases involving civil rights and racial justice—including class actions against some of the largest corporations such as Phillip Morris.[11] In 1976, the Virginia Trial Lawyers Association would honor him with the Distinguished Service Award.[12]
However, despite his judicial record as a civil rights advocate, his most notable contributions came after Chief Justice William H. Rehnquist appointed him to a special panel to appoint independent counsels to investigate alleged wrongdoing by members of the executive branch. Judge Butzner would cast a dissenting vote on a three-person panel in two high-profile decisions—the reversal of fraud and racketeering convictions against Maryland Governor Marvin Mandel and the appointment of Ken Starr as the independent prosecutor investigating President Clinton's involvement with the Whitewater controversy.[13] Though no official record exists regarding Judge Butzner's selection to investigate the Clintons, he is quoted as saying, "I was against Starr, start to finish."[14]
Judge Butzner would assume senior status on November 1, 1982 and work in that capacity until his retirement in 2000. He died six years later due to illness.[15] Judge J. Harvie Wilkinson III, a colleague on the 4th Circuit bench, recalls Butzner as "A perfect example of what a judge ought to be. He combined integrity, courtesy, fairness and intelligence."[16] After nearly 40 years of judicial service, Judge Butzner's dedication to justice lives on in his work.
[1] Federal Judicial Center, John Decker Butzner, Jr., https://www.fjc.gov/node/1378651 (last visited Sept. 4, 2018).
[2] Wil Bowler, John Decker Butzner, Jr., Find a Grave (Sept. 12, 2006), https://www.findagrave.com/memorial/15714709/john-decker-butzner.
[3] Federal Judicial Center, supra note 1.
[4] Bowler, supra note 2.
[5] Id.
[6] Federal Judicial Center, supra note 1.
[7] Id.
[8] Id.
[9] Id.
[10] Id.
[11] Quarles v. Phillip Morris, Inc., 279 F. Supp. 505 (4th Cir. 1968).
[12] Bowler, supra note 2.
[13] See United States v. Mandel, 591 F.2d 1347 (4th Cir. 1979); Toni Locy, Judges' Politics Examined in Appointment of Starr to Direct Probe, Wash. Post (Aug. 7, 1994), https://www.washingtonpost.com/archive/politics/1994/08/07/judges-politics-examined-in-appointment-of-starr-to-direct-probe/89aa6333-f4f1-4564-861e-907a1ecd9040/?utm_term=.7a1dd76c1a9b.
[14] Janet Maslin, Damages: Bill Clinton's Legal Mess, N.Y. Times (Feb. 14, 2010), https://www.nytimes.com/2010/02/15/books/15book.html.
[15] Bowler, supra note 2.
[16] Id.