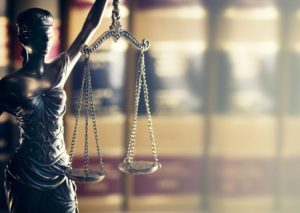 By Kenya Parrish & Sophia Pappalardo
The Honorable James Dickson Phillips Jr. was born in Laurinburg, North Carolina on September 23, 1922.[1] Judge Phillips graduated as the salutatorian of his high school in 1939 and went on to attend Davidson College.[2] At Davidson, Judge Phillips was the captain of the baseball team and achieved Phi Beta Kappa academic honors.[3] In addition to playing baseball, Judge Phillips was also a member of the Army ROTC program at Davidson, and after graduating in 1943, Judge Phillips enlisted in the United States Army as a 2nd Lieutenant.[4] Judge Phillips then fought and was injured in World War II and was later honored with the Bronze Star and the Purple Heart for his military service.[5]
In 1945, Judge Phillips rode with his friend as he traveled to begin his studies at the University of North Carolina School of Law, and after meeting with the dean, Phillips was admitted on the spot to study at the law school as well.[6] Just as he did at Davidson, Judge Phillips excelled academically in law school, serving as Associate Editor of the North Carolina Law Review and earning Order of the Coif academic honors.[7] Judge Phillips's first job after graduating from law school was serving as the assistant director of the UNC Institute of Government.[8] In 1949, Judge Phillips then returned to his hometown of Laurinburg to work in private practice with his longtime friend and law school classmate, Terry Sanford, who later served as Governor of North Carolina.[9]
After working as a trial lawyer, Judge Phillips returned to the UNC School of Law in 1959 as a visiting professor in civil procedure and related subjects.[10] Judge Phillips later became an associate professor, and in 1964, he became a tenured full professor and the eighth Dean of the UNC School of Law.[11] During his ten-year term as dean, the law school inaugurated the Holderness Moot Court program, sponsored of the school's first clinical classes, carried out the largest fundraising effort in the school's history, and had a North Carolina bar passage rate of 95.8% among its graduates.[12]
Judge Phillips was appointed to the U.S. Court of Appeals for the Fourth Circuit by President Carter on July 20, 1978.[13] He assumed senior status in 1994.  Judge J. Harvie Wilkinson, III described Judge Phillips as a "heroic man of courage, both on the military battlefield and in a courtroom.  He had a great feel for humanity, and a strong combination of intellect, integrity and humility.  He exemplified what is good about being a judge."[14]
Many of the cases Judge Phillips addressed involved contentious topics that are still relevant today: minority voting rights, gerrymandering, and sex discrimination.[15] Notably, he wrote the opinion for Gingles v. Edminsten, where the court held that a North Carolina redistricting plan violated Section 2 of the Voting Rights Act.[16] The decision was appealed directly to the U.S. Supreme Court, which affirmed the judgment for all but one of the House Districts.[17]
Ten years later, Judge Phillips dissented from the Fourth Circuit panel's majority decision in United States v. Virginia, a sex discrimination case.[18] The majority held that a state-sponsored all-male military program at the Virginia Military Institute did not violate the Fourteenth Amendment's Equal Protection Clause as long as the state also supported an all-female leadership program at the all-female Mary Baldwin College.[19] Judge Phillips wrote, "I would . . . declare the VMI men-only policy still in violation of the Equal Protection Clause, and order that the violation be ended . . . ."[20] A year later, and consistent with Judge Phillips's dissent, the U.S. Supreme Court overturned the Fourth Circuit's decision.[21]
Judge Phillips sat on the Fourth Circuit until 1999.[22] After twenty-one years on the bench, he was succeeded by Judge James A. Wynn, who described Judge Phillips as "one who exuded grace and gentility coupled with great scholarship.  He was a role model."[23] Others described him as a "colorful storyteller with a quick wit and sly sense of humor."[24] At the age of ninety-four, the Honorable James Dickson Phillips Jr. passed away at his home on August 27, 2017.[25]
[1] John Charles Boger, J. Dickson Phillips Jr.: Preparation for Judicial Excellence, 92 N.C. L. Rev. 1789, 1789 (2014); Anne Blythe, He Earned a Purple Heart, Led UNC Law and Shaped Civil Rights as a Judge, News & Observer (Aug. 30, 2017, 5:59 PM), https://www.newsobserver.com/news/local/article170309727.html.
[2]  Boger, supra note 1 at 1790.
[3] Id.
[4] Id.
[5] Id. at 1791.
[6] Id.
[7] Id.
[8] Id.
[9] Id.
[10] Id. at 1792.
[11] Id.; Martin H. Brinkley, Carolina Law Community Remembers Dean and Judge James Dickson Phillips Jr. '48 (1922-2017), U.N.C. Sch. L.(Aug. 29, 2017), http://www.law.unc.edu/news/2017/08/29/remembering-dean-james-dickson-phillips-jr-48/.
[12] Boger, supra note 1 at 1793.
[13] Judge James Dickson Phillips, Jr., U. N.C. Sch. L., http://phillips.law.unc.edu/judicial-service/(last visited Oct. 1, 2018).
[14] Fourth Circuit Court of Appeals Remembers Judge J. Dickson Phillips, Jr., U.S. Ct. of Appeals for the Fourth Cir. (August 31, 2017), https://perma.cc/LN44-Z97N.
[15] Blythe, supra note 1.
[16] Gingles v. Edminsten, 590 F. Supp. 345, 350 (E.D.N.C. 1984).
[17] See Thornburg v. Gingles, 478 U.S. 30, 80 (1986).
[18] U.S. v. Virginia, 44 F.3d 1229, 1242–51 (4th Cir. 1995).
[19] Id. at 1232.
[20] Id. at 1243.
[21] U.S. v. Virginia, 518 U.S. 515, 515–18 (1996).
[22] Blythe, supra note 1.
[23] Id.
[24] Id.
[25] Id.