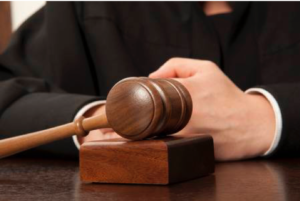 By Elliott Beale and Cassidy Webb
Samuel James Ervin III was born on March 2, 1926 in Morganton, North Carolina.[1] Judge Ervin joined the U.S. Army and served as a lieutenant from 1944 to 1946.[2] After Judge Ervin earned his Bachelor of Science from Davidson College in 1948, he received his LL.B. from Harvard Law School in 1951.[3] Following another two year stint in the U.S. Army, Judge Ervin returned to Morganton to work in private practice.[4] Judge Ervin worked at Patton, Ervin, and Starnes, where he became associated in 1957.[5] While working in private practice, Judge Ervin served as a solicitor for the Burke County Board of Commissioners from 1954 to 1956 and North Carolina State Representative from 1965 to 1967.[6] Governor Dan K. Moore named Judge Ervin to fill a vacancy on the North Carolina Superior Court for the 25th Judicial District in July 1967.[7] Judge Ervin served on the North Carolina Superior Court until 1980.[8]
On April 2, 1980, President Jimmy Carter nominated Judge Ervin to a new seat on the U.S. Court of Appeals for the Fourth Circuit.[9] He was confirmed by the Senate on May 21, 1980 and received his commission on May 23, 1980.[10] He served as Chief Judge of the Fourth Circuit from 1989 to 1996.  While serving as Chief Judge, Judge Ervin was also a member of the Judicial Conference of the United States from 1989 to 1995.[11] His service terminated on September 18, 1999 upon his death.[12]
One of the most interesting cases Judge Ervin said he presided over as a North Carolina judge was when the court effectively rewrote James B. Duke's, founder of Duke Power, will.[13] Judge Ervin had to determine what Duke would have done with the dispositional investment his foundation had in Duke Power Company had Duke known about the Tax Reform Act at the time he made his will.[14] Judge Ervin also presided over one of the first inverse condemnation cases in Charlotte.[15] He had to determine whether airplanes could inversely condemn the property by flying at low altitudes regularly over people's houses and if this enabled the individuals to recover damages for their property's loss of value.[16]
Following his death, Judge James Dickson Phillips, Jr. fondly remembered Judge Ervin as the "very model of prudence and temperance, of fortitude and fairness."[17] Judge Phillips described Judge Ervin as a man who wore no masks and acted with integrity, courtesy, and civility in all circumstances.[18]
Judge Ervin was survived by his wife, two daughters, and two sons.[19] His sons, Samuel "Jimmy" Ervin IV and Robert C. Ervin, both followed in their father's footsteps and became judges.[20] Judge Ervin IV currently serves as an Associate Justice of North Carolina Supreme Court, and Judge R. Ervin currently serves as a North Carolina Superior Court judge.[21] Judge Ervin IV says one of the biggest lessons his father taught him "was to remember that behind any case that comes before the court there are real people with real problems whose lives will be substantially affected by what the members of the court do."[22]
[1]Ervin, Samuel James III, Fed. Jud. Ctr., https://www.fjc.gov/node/1380526 (last visited Oct. 23, 2018).
[2]Id.
[3]Id.
[4]Id.
[5]Jimmy Rhyne, 50 Years Ago, News Herald (Jul. 10, 2017), https://www.morganton.com/townnews/law/years-ago/article_30f8f7a0-6586-11e7-8b89-b33a295af7d6.html.
[6]Fed. Jud. Ctr., supra note 1.
[7]Rhyne, supra note 5.
[8]Fed. Jud. Ctr., supra note 1.
[9]Id.
[10]Id.
[11]Id.
[12]Id.
[13]Interview by Hilary L. Arnold with Judge Sam J. Ervin III, Chief Judge of the Fourth Circuit, in Morganton, NC, (Feb. 24, 1993 & Apr. 8, 1993), https://dc.lib.unc.edu/cdm/ref/collection/sohp/id/12622.
[14]Id.
[15]Id.
[16]Id.
[17]James D. Phillips, Jr., Sam J. Ervin III: A Tribute, 78 N.C. L. Rev. 1705, 1706 (2000).
[18]Id.
[19]Samuel James Ervin 3d, 73 Federal Judge, N.Y. Times (Sept. 21, 1999), https://www.nytimes.com/1999/09/21/us/samuel-james-ervin-3d-73-federal-judge.html.
[20]Sharon McBrayer, Taking the Bench: Sam Ervin Sworn in as NC Supreme Court Judge, News Herald (Jan. 8, 2015), https://www.morganton.com/news/taking-the-bench-sam-ervin-sworn-in-as-nc-supreme/article_44c98846-9796-11e4-a117-f7ef4aff205c.html.
[21]Id.
[22]Id.