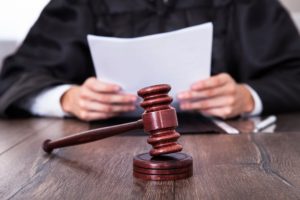 By Ryan Meier & Jacqueline Canzoneri
Judge James Harvie Wilkinson III—better known as J. Harvie Wilkinson—was born on September 29, 1944 in New York City. He spent his early years in Richmond but attended boarding school in New Jersey before earning his undergraduate degree with honors from Yale University in 1967.[1] Shortly after, Judge Wilkinson moved back to the South and served in the U.S. Army from 1968 to 1969 before earning his Juris Doctor degree from the University of Virginia School of Law in 1972. After graduating from law school, Wilkinson spent a year as a clerk for Supreme Court Justice Lewis F. Powell, Jr.[2] He then worked as an associate professor at the University of Virginia Law School, where he would later earn full professor status, as well as briefly serving as the editorial page editor for the Norfolk Virginian-Pilot—a local newspaper in Virginia.[3] Judge Wilkinson would go on to become Deputy Assistant U.S. Attorney General in the Justice Department's Civil Rights Division until 1983.[4]
On January 30, 1984, President Ronald Reagan nominated Wilkinson to fill a seat on the United States Court of Appeals for the Fourth Circuit vacated by Judge John D. Butzner Jr.[5] Judge Wilkinson was confirmed by the Senate and received commission on August 13, 1984.[6] His judicial record is regarded as consistently conservative. In his over 30 years of service as a federal judge, Judge Wilkinson had the opportunity to rule on a wide variety of cases. In one of his most notable cases, Richmond Medical Center for Women v. Hicks,[7] Judge Wilkinson wrote a concurring opinion upholding a controversial partial birth abortion ban in Virginia. Wilkinson expressed his disapproval of partial birth abortions, describing the procedure as gruesome and stating that such measures are "not something this good land should seek to constitutionalize."[8] In the early 2000's, Judge Wilkinson wrote the majority opinion in United States v. Al-Hamdi, a contentious case regarding the United States' authority to indefinitely detain an American citizen captured during an invasion in Afghanistan.[9] In the opinion, Judge Wilkinson upheld the constitutionality of the indefinite detainment and expressed a deference to the defense branch in wartime conduct. The decision was appealed to the United States Supreme Court and was ultimately overturned.[10] From 1996 to 2003, Judge Wilkinson served as Chief Judge of the Fourth Circuit.[11]
Shortly thereafter, a vacancy on the Supreme Court created by retiring Justice Sandra Day O'Connor led President George W. Bush to consider Judge Wilkinson for the nomination.[12] Though he was a strong candidate for the position, Judge Wilkinson was passed over in favor of current Chief Justice of the Supreme Court John Roberts.[13] On his own consideration and the Roberts nomination, Wilkinson said, "I was given a good shot, and you just can't find a better person or a better judge than John Roberts."[14]
In addition to his work on the federal bench, Wilkinson is also an avid writer. To date, Wilkinson has written six books: Harry Byrd and The Changing Face of Virginia Politics, 1945–1966; Serving Justice: A Supreme Court Clerk's View; From Brown to Bakke: The Supreme Court and School Integration, 1954–1978; One Nation Indivisible: How Ethnic Separatism Threatens America; Cosmic Constitutional Theory: Why Americans Are Losing Their Inalienable Right to Self-Governance; and All Falling Faiths: Reflections on the Promises and Failure of the 1960s.[15]
Over his long tenure on the Fourth Circuit, Judge Wilkinson has become a well-respected member of the judiciary. Rodney A. Smolla, Dean of the University of Richmond School of Law, describes Wilkinson as "highly respected within the 4th Circuit and nationally . . . He has an extremely personable and gregarious personality." Judge Wilkinson, now entering his 35th year on the federal bench, continues to be an influential advocate within the federal court system, emphasizing the removal of personal attachment to cases, and asserting "the authority [judges] have, derives from loyalty to the rule of law not from personal political views, and we need to resist the temptation of supplanting our own views and interpretations."[16]

---
[1] Judges of the Court, U.S. Court of Appeals for the Fourth Circuit,http://www.ca4.uscourts.gov/judges/judges-of-the-court/judge-j-harvie-wilkinson-iii (last visited Jan. 29, 2019).
[2] Robyn Hagan Cain, 5 Things to Know About Judge J. Harvie Wilkinson III, FindLaw (Sept. 12, 2012, 3:12 PM), https://blogs.findlaw.com/fourth_circuit/2012/09/5-things-to-know-about-judge-j-harvie-wilkinson-iii.html.
[3] Who is J. Harvie Wilkinson III?, ABC News (Oct. 2005), https://abcnews.go.com/Politics/SupremeCourt/story?id=1257307.
[4] A Nation Mesmerized and Seduced: Judge J. Harvie Wilkinson III '72 on "Cosmic Constitutional Theory", UVA Lawyer (2013), https://www.law.virginia.edu/static/uvalawyer/html/alumni/uvalawyer/f13/wilkinson.htm.
[5] Judges of the Court, supra note 1.
[6] Id.
[7] 422 F.3d 160 (4th Cir. 2005).
[8] Id. at 162.
[9] 356 F.3d 564 (4th Cir. 2004).
[10] Who is J. Harvie Wilkinson III?, supra note 3.
[11] Id.
[12] Elisabeth Bumiller, Court in Transition: The President; An Interview By, Not With, The President, N.Y. Times (July 21, 2005), https://www.nytimes.com/2005/07/21/us/front%20page/court-in-transition-the-president-an-interview-by-not-with.html.
[13] Id.
[14] Id.
[15] Books by J. Harvie Wilkinson III, Thirftbooks, https://www.thriftbooks.com/a/j-harvie-wilkinson-iii/751777/ (last visited Jan. 29, 2019).
[16] All Falling Faiths, C-Span: Wash. Journal (Feb. 11, 2017), https://www.c-span.org/video/?423742-6/washington-journal-judge-harvie-wilkinson-iii-discusses-all-falling-faiths