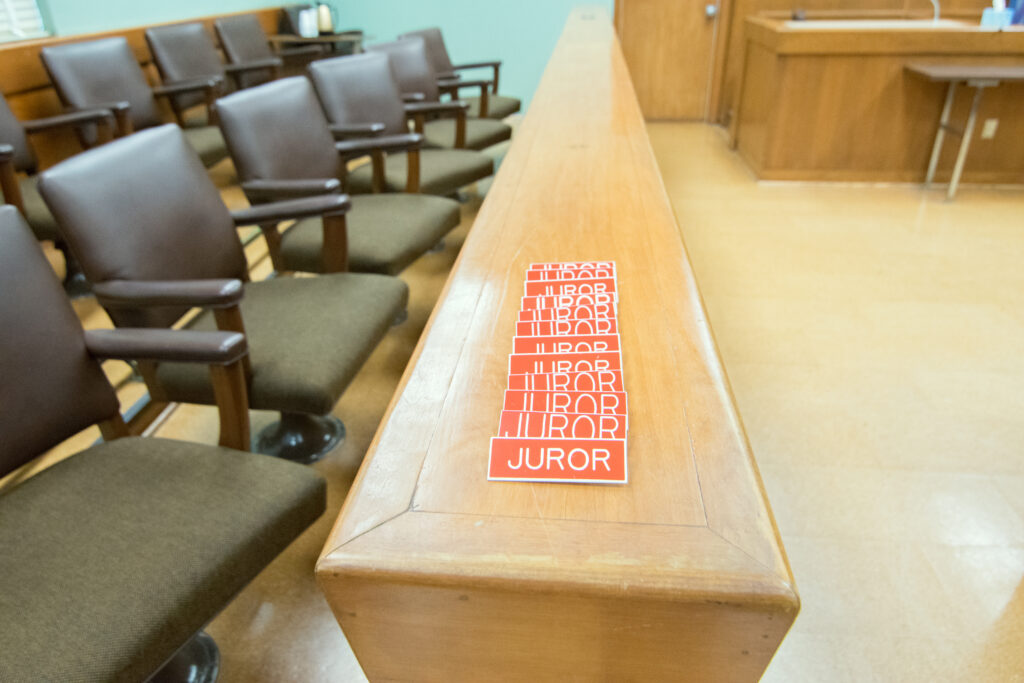 By Hanna Diamond
On December 29, 2021, Ghislaine Maxwell, a British socialite, was convicted on five counts of sex trafficking and "other charges for recruiting and grooming teenage girls" for Jeffrey Epstein.[1]  Maxwell is facing sixty-five years in prison,[2] and her sentencing date is June 28, 2022.[3] 
Maxwell may be awarded a second chance in the courtroom, however, after her attorney filed for a new trial on the grounds of juror misconduct.[4]  The juror, going by his first and middle names "Scotty David,"[5] told the media after the trial that "he shared his experience of being sexually abused as a child during deliberations."[6]  This juror alleged that his personal experiences helped persuade other jurors of Maxwell's guilt.[7] 
The focus for the alleged juror misconduct is whether Scotty David honestly answered the pre-screening questionnaire, which asked if "he or anyone in his family had been the victim of sexual abuse."[8]  The juror said that he does not recall the question, that he was not asked about his personal experiences with sexual abuse during follow up questioning,[9] and that he answered the questionnaire truthfully.[10]
As an attempt to avoid a new trial, the prosecution sent a letter to U.S. District Court Judge Alison Nathan offering to dismiss perjury charges against Maxwell if Maxwell's convictions stand.[11]  The prosecution argued that this would benefit the victims by "bringing closure to this matter and avoiding the trauma of testifying again."[12]  
The fact that Scotty David experienced sexual abuse as a child does not disqualify him from serving as a juror.[17]  But, the defense likely would have used one of their challenges to dismiss him.[18]  Prior to serving as a juror, the jurors faced a "30-page, 50-question survey."[19]  These questionnaires are sealed, so it is inconclusive whether Scotty David properly answered the questionnaire.[20]  In the transcript of his voir dire, he was never asked about the sexual abuse question on the questionnaire, which may suggest that "a disclose had not been made" in the questionnaire.[21]  Scotty David filled out this questionnaire and was required to make disclosures while under oath and an instruction to tell the truth.[22]  Therefore, he is exposed to a perjury charge if he did in fact lie on the questionnaire.[23]
Even if juror misconduct did occur, that does not necessarily mean that Maxwell is entitled to a new trial.[24]  For a new trial to be ordered, it must be determined that "substantial justice has not been done as a result of juror misconduct."[25]  Seth DuCharme, "a former Justice Department official and former acting U.S. attorney for the Eastern District of New York," said that jurors are "people that come from the community . . . . If you were going to disturb every jury verdict because somebody brought their own personal experience into that process, then you would have to disturb every jury verdict."[26]  A new trial may be warranted, however, due to juror misconduct "if a juror concealed his or her bias by failing to answer questions truthfully during voir dire."[27]
Here, the outcome of the new trial will largely depend on whether Scotty David gave proper disclosures during the questionnaire.  Alleged juror misconduct presents a conflict between the interest of justice and the interest of upholding the integrity of jury verdicts.  Defendants should not be given a free pass at a new trial every time there is a slight degree of misconduct by jurors.  This supports why the misconduct must have led to substantial injustice or affected a substantial right of the defendant.  Until Scotty David's disclosures, or lack thereof, are made public, the substantiality of Scotty David's alleged juror misconduct remains knowledge for the court.
---
[1] Luc Cohen, Maxwell Sentencing Set for June, as U.S. Judge Weighs Request for New Trial, Reuters (Jan. 14, 2022, 8:12 PM), https://www.reuters.com/world/us/maxwell-sentencing-set-june-us-judge-weighs-request-new-trial-2022-01-14/.  For more information on Ghislaine Maxwell's charges, see Press Release, Ghislaine Maxwell Charged in Manhattan Federal Court for Conspiring with Jeffrey Epstein to Sexually Abuse Minors, U.S. Att'y's Office, Dep't of Just., https://www.justice.gov/usao-sdny/pr/ghislaine-maxwell-charged-manhattan-federal-court-conspiring-jeffrey-epstein-sexually, (July 6, 2020).
[2] Cohen, supra note 1.
[3] Lauren Berg, Maxwell Faces Sentencing, Judge Ponders New Trial Bid, Law 360 (Jan. 14, 2022, 10:27 PM), https://www.law360.com/articles/1455926?sidebar=true.
[4] Max Jaeger, Maxwell Wants New Trial After Juror Reveals Past Sex Abuse, Law 360 (Jan. 5, 2022, 6:51 PM), https://www.law360.com/articles/1452760/maxwell-wants-new-trial-after-juror-reveals-past-sex-abuse.
[5] Id.
[6] Cohen, supra note 1.
[7] Id.
[8] Id.
[9] Id.
[10] Berg, supra note 3.
[11] Jonathan Stempel, U.S. Offers to Dismiss Ghislaine Maxwell Perjury Case if Sex Abuse Conviction Stands, Reuters (Jan. 11, 2022, 5:33 AM), https://www.reuters.com/world/us/us-offers-dismiss-ghislaine-maxwell-perjury-case-if-sex-abuse-conviction-stands-2022-01-11/.
[12] Id.
[13] Id.
[14] Id.
[15] Ben Feuerherd & Kenneth Garger, Ghislaine Maxwell's Lawyers Say Juror 'Violated' Her Right to Fair Trial, N.Y. Post (Feb. 1, 2022, 10:38 PM), https://nypost.com/2022/02/01/ghislaine-maxwells-lawyers-say-juror-scotty-david-violated-her-right-to-fair-trial/.
[16] Id.
[17] Shayna Jacobs, Juror Revelations May Jeopardize Ghislaine Maxwell Convictions, Experts Say, Wash. Post (Jan. 6, 2022, 7:37 PM), https://www.washingtonpost.com/national-security/ghislaine-maxwell-jurors-overturn/2022/01/06/4eaa6afc-6f15-11ec-b9fc-b394d592a7a6_story.html.
[18] Id.
[19] Id.
[20] Id.
[21] Id.
[22] Id.
[23] Id.
[24] See People v. Davis, 924 N.Y.S.2d 132, 134 (N.Y. App. Div. 2011) (stating that to prevail on a claim of juror misconduct, the defendant must establish that the juror's alleged improper conduct "may have affected a substantial right of the defendant" (citing N.Y. Crim. Proc. Law § 330.30(2) (Consol. 2022))).
[25] LaChapelle v. McLoughlin, 891 N.Y.S.2d 428, 429 (N.Y. App. Div. 2009); N.Y. Crim. Proc. Law § 4404(a) (Consol. 2022).
[26] Jacobs, supra note 17.
[27] See Matter of State of N.Y. v. Donald G., 130 N.Y.S.3d 579, 582 (N.Y. App. Div. 2020).
---
Post image by Patrick Feller on Flickr