Click Below For Information on Our 2021 Symposium: Secondary Trauma in the Legal Profession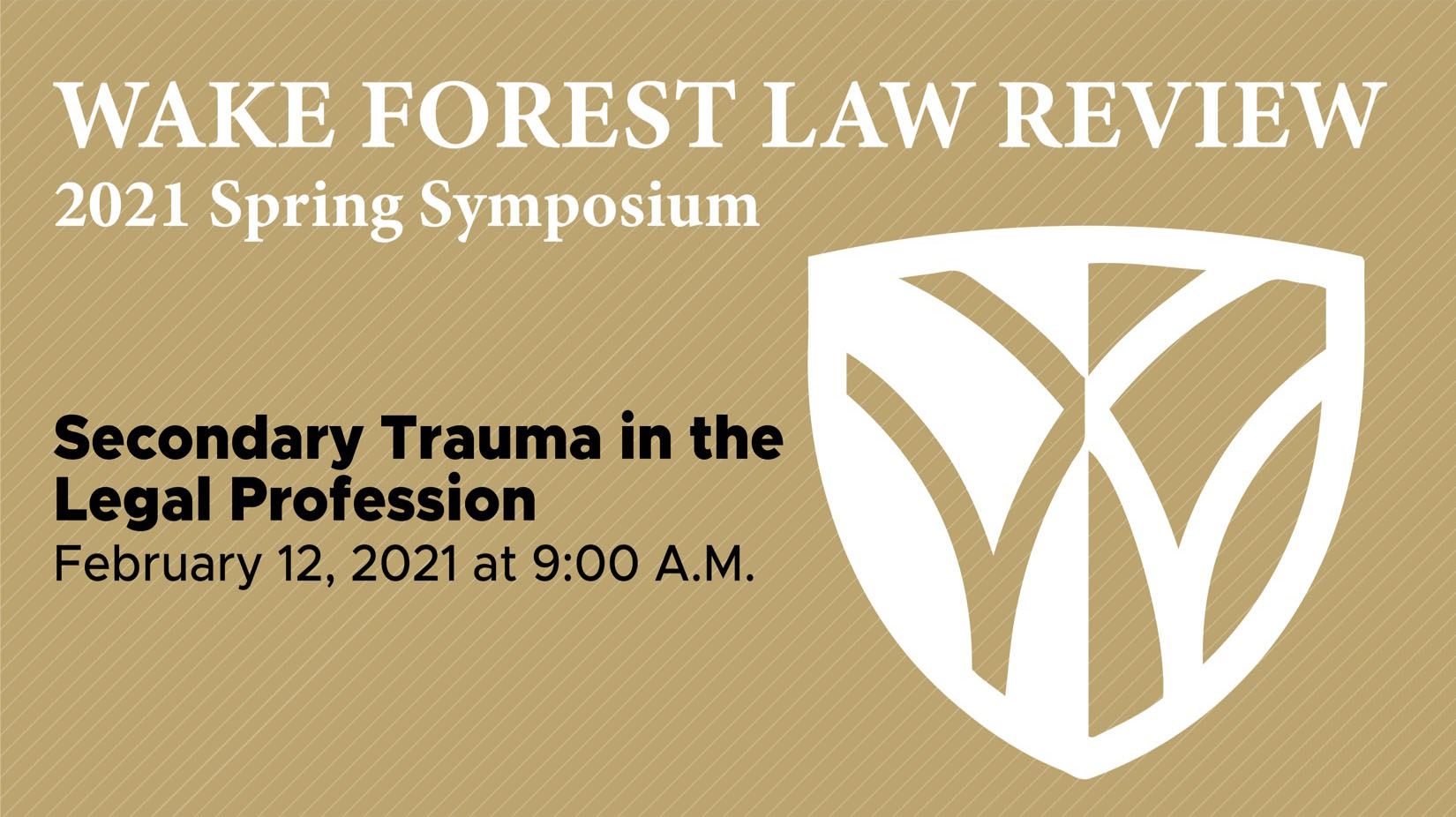 ---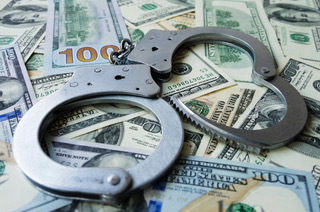 Sponsored by:
The Wake Forest Eudaimonia Institute & The Wake Forest Provost's Fund for Academic Excellence
Friday, January 31, 2020
8:45 a.m. to 3:00 p.m.
Wake Forest University School of Law, Room 1312
CLICK HERE TO REGISTER NOW
CLE Credits: 4.75 Hours APPROVED
This event is free and open to the public. Breakfast provided at 8:15 am.
Panel Videos
Risk Assessment / Right to Counsel / Community Voice
Parking
A campus parking map can be found here. Parking will be available for registered symposium attendees near the Wake Forest School of Law in lot W1. Signs will be posted at the approved parking lots to guide visitors to the event.
Campus Map/Lunch Options
Entrance from Polo Road
Entrance from University Parkway
Entrance from Reynolda Road
Law School
Parking Lot
Subway
Food Court (Chik-fil-a, Moes, Shorty's Tavern)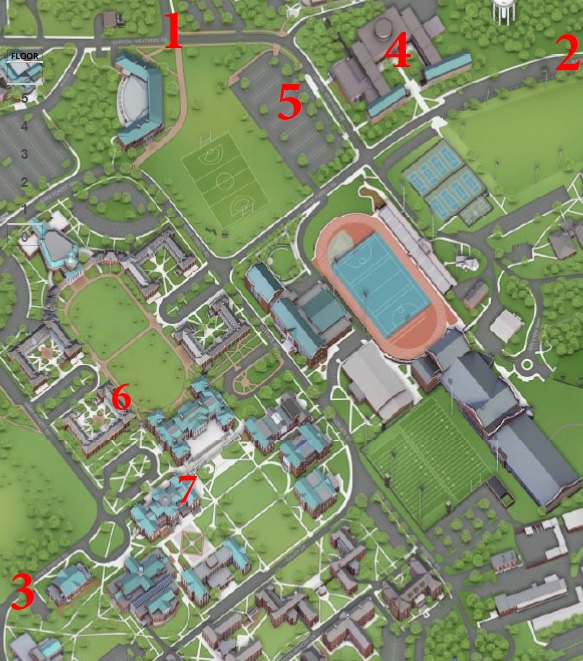 Event Description
The Wake Forest Law Review is hosting its annual Spring Symposium on January 31, 2020 regarding pretrial detention and bail reform at the Wake Forest University School of Law. This topic is scheduled to elicit leading scholars on the subject from around the country as well as other important stakeholders in North Carolina and elsewhere. The Symposium is set to shed light on the large, yet often unaddressed problem of pre-trial detention in the United States.
The scope of pretrial detention in America is significant: More than half a million people sit in jail at any given time in America because they have been merely accused of a crime. Such broad pretrial detention deprives people of their liberty before being afforded significant process, undermines the presumption of innocence, increases crime, and wastes tax dollars by locking up a lot of people who are not dangerous. Direct cost estimates for our current state of widespread pretrial detention range between nine and twelve billion dollars per year. And those numbers do not account for the loss of human flourishing that pretrial detention inflicts, including loss of employment and housing as well as defendants' lost contributions to economic growth or to tax bases. For defendants who are the primary wage earners in their family, widespread use of pretrial detention leaves families to fend for themselves and depend more heavily on public assistance. Moreover, recent empirical evidence demonstrates that defendants detained pretrial are more likely to be convicted than those released pretrial and are likely to serve longer postconviction sentences.
The symposium will bring together criminal law stakeholders, academics, and community groups to discuss the current state of bail reform and how to continue reforming these systems. With each panel our aim is to combine theory with an understanding of facts on the ground regarding various aspects of pretrial detention and from various places across the country. We hope that you will be able to join us for this event. A light breakfast will be provided, and CLE credit is available.
Event Schedule
8:00 am – 8:45 am – Breakfast and guest arrival at the law school.
8:45 am – 9:00 am – Opening Remarks.
9:00 am – 10:15 am – Risk Assessment Panel
10:15 – 10:25 – Break
10:25 am – 11:45 am – Stories of Reform Panel
11:45 pm – 12:45 pm – Lunch
12:45 pm – 1:40 pm – Right to Counsel Panel
1:40 pm – 1:50 pm – Break
1:50 pm – 3:00 pm – Community Voice Panel
3:00 pm – Closing remarks
Panelist Bio's and Panel Descriptions
Risk Assessment Panel
The risk assessment panel will delve into the various factors that go into determining the risk of setting bail for a detained defendant. Current standards are often based upon bail charts that automatically set bail standards. This panel will discuss the pros and cons with that standard and how to effectuate new standards that take into account the likelihood of a defendant to flee, the likelihood of a defendant to commit another illegal act, and the reasonable bail they can pay based on their circumstances.
Panelists:
Sarah Desmarais

Dr. Desmarais is a Professor in the Applied Social and Community Psychology Program and Director of the Center for Family and Community Engagement at North Carolina State University. She received her Ph.D. from the Law and Forensic Psychology Program at Simon Fraser University. Dr. Desmarais' current research focuses on the assessment and treatment of risks and needs associated with criminal behavior, interpersonal violence, and terrorism.

Sandra Mayson

Professor Sandra G. "Sandy" Mayson has joined the University of Georgia School of Law teaching Criminal Law, Evidence, and a seminar on Criminal Justice Reform. Mayson comes to UGA from the University of Pennsylvania Law School, where she served as a Research Fellow for the Quattrone Center for the Fair Administration of Justice. She previously served as a Furman Academic Fellow at New York University School of Law. Mayson received her B.A. in comparative literature summa cum laude from Yale University. She earned her law degree magna cum laude from New York University, where she was an articles editor of the New York University Law Review, an Institute for International Law and Justice Scholar, a Florence Allen Scholar and a member of the Order of the Coif.

Lauryn Gouldin

Professor Lauryn Gouldin teaches constitutional criminal procedure, criminal law, evidence, constitutional law, and criminal justice reform. Her scholarship focuses on the Fourth Amendment, pretrial detention and bail reform, and judicial decision-making. Gouldin graduated from Princeton University with a major in the Woodrow Wilson School of Public and International Affairs and received her J.D., magna cum laude, from New York University School of Law. Following law school, Gouldin clerked for the Hon. Leonard B. Sand in the Southern District of New York and for the Hon. Chester J. Straub of the U.S. Court of Appeals for the Second Circuit.

Jenny Carroll

Professor Jenny Carroll joined the University of Alabama School of Law faculty in 2014. She is the Wiggins, Childs, Quinn, and Pantazis Professor of Law. She graduated summa cum laude with an A.B. from Duke University and with honors with a J.D. from the University of Texas. She also holds an LL.M. from Georgetown University Law Center in Clinical Advocacy, which she earned in conjunction with the Prettyman Fellowship. Prior to her years of practice as a public defender and teaching, she clerked for the Honorable William Wayne Justice of the United States District Court, Eastern District of Texas.
Stories of Reform Panel
Perhaps the most important aspect for lawyers to consider when they learn about an area of the law and its potential shortfalls are the results of test cases in other jurisdictions. This panel will discuss how other jurisdictions have altered their approach to bail through legislation, local prosecutor initiatives, community action, and judicial intervention. North Carolina practitioners will be empowered with knowledge regarding what approaches to bail reform have been most effective and what unintended consequences may have followed.
Panelists:
Jessica Smith

Professor Jessica Smith is Director of the UNC School of Government's Criminal Justice Innovation Lab. The Lab brings together a broad range of stakeholders to learn about criminal justice problems, implement innovative consensus solutions, and measure the impact of their efforts.
Smith came to the School of Government in 2000 after practicing law at Covington & Burling in Washington, D.C., and clerking for Judge W. Earl Britt on the U.S. District Court for the Eastern District of North Carolina and for Judge J. Dickson Phillips Jr. on the U.S. Court of Appeals for the Fourth Circuit. In 2006, she received the Albert and Gladys Hall Coates Term Professorship for Teaching Excellence; in 2013, she was named by the Chancellor as a W. R. Kenan, Jr. Distinguished Professor, one of the University's highest academic honors. Smith earned a BA, cum laude, from the University of Pennsylvania and a JD, magna cum laude, Order of the Coif, from the University of Pennsylvania Law School, where she was managing editor of the Law Review.

Spencer Merriweather

Spencer Merriweather is the current District Attorney for Mecklenburg County. Merriweather earned a law degree from the University of North Carolina at Chapel Hill in 2005. He received his undergraduate degree from Princeton University, where he served as undergraduate Student Body President and on the University Board of Trustees for four years following graduation in 2000. Between college and law school, Spencer worked on Capitol Hill as a congressional staffer for Del. Eleanor Holmes Norton (D-DC). He served as the first director of her Commission on Black Men and Boys.

Caitlin Fenhagen

Caitlin Fenhagen is the Criminal Justice Resource Director for Orange County, North Carolina. The Orange County Criminal Justice Resource Department (CJRD) was created by the Board of County Commissioners to oversee, support and enhance jail alternatives programming in Orange County. Prior to her position at the CJRD, she worked for eight years as the Deputy Capital Defender for the Office of the N.C. Capital Defender. After graduating from UNC School of Law, she was an Assistant Public Defender in Philadelphia, the Bronx, and Orange County. She also spent two years as an attorney at the Center for Death Penalty Litigation.

Brandon Garrett

Professor Brandon L. Garrett joined the Duke Law faculty in 2018 as the inaugural L. Neil Williams, Jr. Professor of Law. Garrett received his BA in 1997 from Yale University. He received his JD in 2001 from Columbia Law School, where he was an articles editor of the Columbia Law Review and a Kent Scholar. After graduating, he clerked for the Hon. Pierre N. Leval of the U.S. Court of Appeals for the Second Circuit and then worked as an associate at Neufeld, Scheck & Brustin LLP in New York City.
Community Voice Panel
The community voice panel will address the movement of many community groups to come to the aid of defendants who cannot make their bail. The viewpoint of these stakeholders and their knowledge of the bail system and its effects on detainees will aid practitioners in developing meaningful arguments to consider when facing bail hearings.
Panelists:
Jocelyn Simonson

Professor Simonson teaches courses in criminal law and evidence. Her scholarship explores ways in which the public participates in criminal justice processes and how that participation, in turn, has the potential to lead to broader changes in the justice system. Prior to joining the Brooklyn Law School faculty in 2015, Professor Simonson was an Acting Assistant Professor of Lawyering at New York University School of Law. Her background also includes work as a public defender with the Bronx Defenders and as a judicial clerk for the Hon. Barrington D. Parker, Jr., U.S. Court of Appeals, Second Circuit. She is a graduate of Harvard Law School, where she was the Editor-in-Chief of the Harvard Civil Rights–Civil Liberties Law Review, and received her B.A. from Yale University.

Andrea Hudson

Andrea Hudson is an experienced director with a demonstrated history of working in the civic & social organization industry. She is the current director of the Bail Fund at Community Success Initiative in North Carolina.

Kristie Puckett-Williams

Kristie Puckett-Williams is a Regional Field Organizer for the ACLU of North Carolina's Campaign for Smart Justice. She is a Charlotte native who holds an M.A. in Human Services Counseling: Addiction and Recovery Counseling. Having survived domestic violence, drug addiction and incarceration, Kristie is now an advocate and activist, fighting for the rights of all marginalized and disenfranchised people. Her goal is to use her educational and life experiences to convey a message of strength and hope in the community as well as a message of recovery, restoration and redemption.

Mary Hooks

Mary Hooks is the co-director of Southerners on New Ground. The organization builds, sustains, and connects a Southern regional base of LGBTQ people in order to transform the region through strategic projects and campaigns developed in response to the current conditions in our communities. Mary joined SONG as a member in 2009 and begin organizing with the organization in 2010.

Yemi Adegbonmire

Yemi Adegbonmire is the General Counsel of The Bail Project. Prior to joining TBP, Yemi was a legal executive at the Walt Disney Company, where she served as legal counsel to ABC Media Networks, Maker Studios Inc., Disney Consumer Products and Interactive Media, and Disney's Direct to Consumer and International Division. Yemi earned both a Bachelor of Arts and Juris Doctor from Wake Forest University, and holds a Master of Health Science from Johns Hopkins University. Yemi is a former Department of Heath and Human Services Public Health Analyst and currently serves on Lambda Legal's National Board of Directors. Yemi is a member of Delta Sigma Theta Sorority Incorporated and discovered her passion for cooking Thai cuisine while teaching abroad in Bangkok.
Right to Counsel Panel
The right to counsel at bail hearings is not guaranteed by the Constitution. However, the right to representation at a hearing that determines a person's freedom is a very important consideration. This panel will discuss the implications of having counsel at the bail hearing. It will also discuss strategies counsel can implement to have bail reconsidered and reform efforts that have provided a right to counsel during bail hearings.
Panelists:
Doug Colbert

Professor Colbert joined the faculty of the University of Maryland School of Law in 1994 after directing the criminal justice clinic and teaching civil rights at Hofstra Law School and visiting at Northeastern and Utah Law Schools. Prior to entering teaching, he was a senior trial attorney in the criminal defense division of the NYC Legal Aid Society. Professor Colbert's recent scholarly activities have focused on reforming states' pretrial release systems and guaranteeing counsel at the bail stage. He founded and directed the Lawyers at Bail Project, which represented 4,000 indigent defendants at bail hearings.

James Williams

James Williams is the retired Chief Public Defender of Orange and Chatham counties. After a career dedicated to addressing racial and social justice issues, Williams continues to pursue social justice reform in his retirement. Williams has founded the North Carolina Public Defenders' Committee on Racial Equity, the North Carolina Commission on Racial and Ethnic Disparities, and the Orange County Bias-Free Policing Coalition. Williams brings a career of knowledge regarding defendant's rights and social justice reform to this panel.