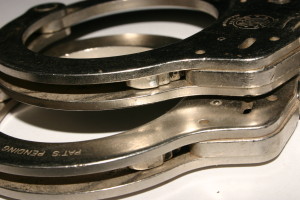 By Whitney Pakalka
On October 22, 2015, the Fourth Circuit issued its published opinion in the criminal case of United States v. Slocumb. The Fourth Circuit reversed the District Court for the Western District of Virginia's denial of a motion to suppress evidence. Because there was no particular and objective basis that created a reasonable suspicion for officers to detain Slocumb, the Fourth Circuit reversed the denial of Slocumb's motion.
Slocumb's Arrest and Conviction 
On March 18, 2013, Andre Slocumb, his girlfriend, Sierra Lewis, and an infant were in the parking lot of a salvage yard around midnight, transferring a child car seat from one vehicle to another. This same parking lot was chosen by the Culpeper, Virginia Police Department as a staging area prior to executing a search warrant on a nearby home. Approximately ten officers arrived at the parking lot, including Lieutenant Timothy Chilton. Chilton approached Slocumb and Lewis to inquire about their presence because the parking lot was known for criminal activity. Slocumb informed Chilton that he was there to pick up Lewis, whose car had broken down. Officer Chilton though Slocumb began hurrying Lewis, acted evasively, did not make eye contact, and gave mumbled responses to his questions.
When another officer asked Slocumb for identification, Slocumb provided a false name. The name given came back as valid for someone that matched Slocumb's appearance. One of the officers then asked Lewis for Slocumb's name, and she identified him as Hakeem Jones, a different name than Slocumb had given. Slocumb was placed under arrest for providing a false name, and officers discovered close to $6,000 on his person. Lewis gave consent for the officers to search the car that Slocumb had arrived in to pick her up. The officers found methamphetamine, cocaine powder, cocaine base, and a small amount of marijuana in the car.
Slocumb was indicted by a federal grand jury on three counts, and filed a motion to suppress the physical evidence seized by officers and incriminating statements he made after his arrest. The District Court denied Slocumb's motion, finding that the officers had reasonable suspicion to justify Slocumb's initial detention and had probable cause to arrest him. Slocumb pleaded guilty and was sentenced to ninety-four months on all three counts, to run concurrently. He appealed the denial of his motion to suppress, arguing that his Fourth Amendment right had been violated because he was detained by the police without a reasonable suspicion he had violated the law.
Fourth Amendment Right to be Free from Unreasonable Search and Seizure 
The Fourth Amendment provides the right to be free from unreasonable search and seizure. In considering when a police stop constitutes an unreasonable seizure, The Supreme Court has held that an officer may detain a person to conduct a brief investigation if he "observes unusual conduct which leads him reasonably to conclude in light of his experience that criminal activity may be afoot." Terry v. Ohio, 392 U.S. 1, 30 (1968). In order for the police to have a reasonable basis for stopping an individual, "the officer 'must be able to point to specific and articulable facts which . . . reasonably warrant that intrusion.'" Id. at 21.
The Fourth Circuit applies a totality of the circumstances test in considering whether an officer had a reasonable suspicion of criminal activity justifying a stop. The Court cautioned that the government "must do more than simply label a behavior as 'suspicious' to make it so," but must "articulate why a particular behavior is suspicious . . . given the surrounding circumstances." United States v. Massenburg, 654 F.3d 480, 491 (4th Cir. 2011).
The Officers in this Case Did Not Have a Reasonable Basis for Detaining Slocumb
 The Fourth Circuit concluded that the factors considered by the District Court did not satisfy the totality of the circumstances test. The District Court considered, among other things, the lateness of the hour that Slocumb was in the parking lot, the fact that the parking lot belonged to a business that had been closed for several hours, and that it was a high crime area. The Fourth Circuit found that all of these considerations could contribute to a finding of a reasonable suspicion, however these "objective factors 'do[] little to support the claimed particularized suspicion as to [Slocumb].'" Id. at 488.
The District Court had also considered Slocumb's particular behavior in hurrying Lewis, avoiding eye contact, and giving mumbled answers. The Fourth Circuit found this behavior to be insufficient to support reasonable suspicion. The Court noted that behavior that has supported a reasonable suspicion included attempts to flee or "more 'extreme' or unusual nervousness or acts of evasion." United States v. Foreman, 369 F.3d 776, 784 (4th Cir. 2004). Heavy breathing, sweating, and trembling hands were suggested by the Court as behaviors that may demonstrate an unusual nervousness, and thus support a reasonable suspicion. The Court found that Slocumb did not attempt to evade officers, but instead acknowledged them and answered their questions in a way that was consistent with his behavior. The Court found that the police had "no more reason to suspect that Slocumb was engaged in criminal activity than [they did] to believe his stated purpose and corresponding actions."
The Fourth Circuit Reversed the District Court's Denial of Slocumb's Motion to Suppress
Because the police could not provide a sufficient objective and particular basis to create a reasonable doubt that would justify detaining Slocumb, the Fourth Circuit reversed the District Court's ruling, vacated Slocumb's conviction and sentence, and remanded for further proceedings.