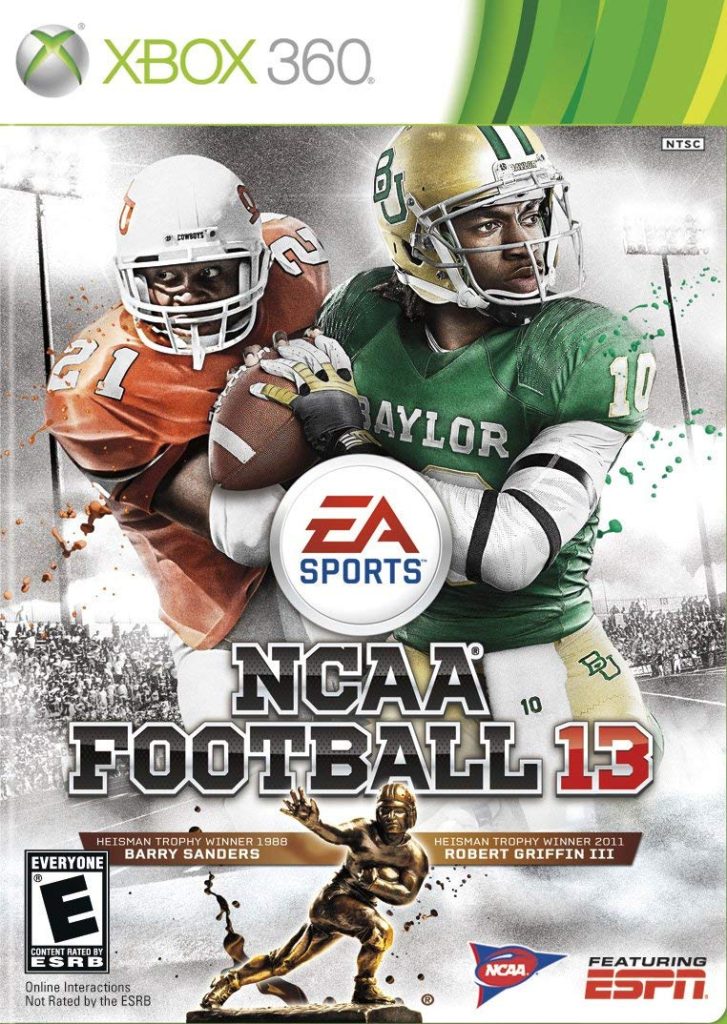 By: Natalie Galdos
College football is coming back to EA Sports.[1]  Daryl Holt, EA Sports vice president and general manager, announced Feb. 2, 2021 that EA Sports will revive its college football video game series.[2]  While Holt declined to share any timeline for the arrival of the next installment of the college football series, fans are looking forward to the game's release, which previously sold millions of copies worldwide.[3]  The new game, EA Sports College Football, will be the beloved franchise's first college football title since EA discontinued the NCAA Football franchise in 2013.[4]  EA Sports previously cited an ongoing class-action legal dispute with ex-athletes over using their likeness without compensation as the reason for the cancellation after a class action lawsuit,[5] O'Bannon v. NCAA.[6]
Ed O'Bannon, a former All-American basketball player, was depicted in an EA Sports college basketball video game.[7]  Because the NCAA has long held that college athletes are by definition "amateurs" and cannot profit in any way from their status as student-athletes, O'Bannon never consented to the use of his likeness in the video game, and he was not compensated for it.[8]  Thus, in 2009, O'Bannon sued the NCAA and the Collegiate Licensing Company, the entity which licenses the trademarks of the NCAA and a number of its member schools for commercial use, in federal court.[9]  EA Sports and the Collegiate Licensing Company settled in 2014 for $40 million.[10]  Without active licensing agreements, EA Sports had to stop all distribution of its college sports video games.[11]  This time, however, EA Sports stated the new game would not include names, images, or likeness ("NIL") of any student-athletes.[12]  By using generic players, EA Sports hopes to sidestep the hot-button issue of NIL rights and compensation.[13]  However, with a new Supreme Court case on the horizon, EA Sports' plans could all change.
On March 31, 2021, the Supreme Court will hear arguments for Alston v. NCAA[14] which is an NCAA case on student-athlete compensation.[15]  Former and current college athletes argue the NCAA's rules restricting on education-related benefits, violated antitrust law under the Sherman Act.[16]  In Alston, the district court found for the athletes, holding that the NCAA must allow for certain types of academic benefits, such as "computers, science equipment, musical instruments and other tangible items not included in the cost of attendance calculation but nonetheless related to the pursuit of academic studies."[17]  The U.S. Court of Appeals for the Ninth Circuit affirmed, recognizing the NCAA's interest in "preserving amateurism," but concluding that the NCAA's practices violated antitrust law.[18]  Further while the Alston litigation has been ongoing, six states have passed legislation addressing an athlete's ability to receive compensation for use of their NIL, and more than two dozen other states are considering similar bills.[19]
If the Supreme Court decides that the NCAA's amateurism rules violate federal antitrust law, this could allow for student-athletes to be compensated by anyone for their NIL.  Further, if this decision is upheld, EA Sports' plan not to use the NIL of existing college players may all change.
Since EA Sports is willing to pay athletes from years ago for use of their NILs, Alston may immediately open the door for current athletes to profit directly from video games.[20]  From EA Sports' perspective, it would be beneficial to integrate real college players in its games.  For example, NCAA Football 13 and 14 featured Robert Griffin III and Denard Robinson, respectively.[21]  Both players were already in the NFL when their respective video games were released.[22]  Thus, EA Sports was willing to put them on the cover of their video game because their time at Baylor and Michigan was "still fresh enough in the collective memory[.]"[23]  The connection to real players can allow EA College Sports to go back to its dominance in the college football gaming world.
Overall, the best decision for the Supreme Court may be to reaffirm the Ninth Circuit as a win for college athletes and EA Sports.  The Supreme Court could rule that student-athletes may never be paid a salary for playing, but could receive the compensation they deserve through signing autographs, marketing deals and other forms of pay for being a brand.[24]  In this model, the NCAA can still benefit because this structure can still follow the NCAA's amateurism requirement of no "pay for play."  Here, nobody would pay the athlete to play; EA Sports or any other video game is simply paying for their brand and likeness.  Therefore, affirming the Ninth Circuit would provide the most benefit to the student-athletes and the gaming community as a whole so that companies like EA Sports can bring back the video games as we know and love them.
---
[1] Michael Rothstein, EA Sports to do College Football Video Game, ESPN (Feb. 2, 2021), https://www.espn.com/college-football/story/_/id/30821045/school-plan-ea-sports-do-college-football.
[2] Id.
[3] Id.
[4] Zoe C. Jones, EA Sports Revives its College Football Video Game—But it Won't Include Real Student-Athletes, CBS News (Feb. 2, 2021, 4:48 PM), https://www.cbsnews.com/news/ea-sports-college-football-game-its-happening/.
[5] Tony Manfred, EA Sports Cancels its College Football Video Game Amid a Wave of Lawsuits, Bus. Insider (Sept. 26, 2013, 4:34 PM),  https://www.businessinsider.com/ea-sports-cancels-ncaa-football-videogame-2013-9.
[6] 802 F.3d 1049 (9th Cir. 2015).
[7] Id. at 1055.
[8] Id. at 1054–55; see also Kat Bailey, How EA Is Bringing Back College Football and Sidestepping the NCAA's Biggest Problems, Vice (Feb. 5, 2021, 10:49 AM), https://www.vice.com/en/article/epd85k/ea-ncaa-college-football-despite-obannon-lawsuit.
[9] O'Bannon, 802 F.3d at 1055.
[10] Mike Hume & Rick Maese, EA Sports Revives College Football Franchise as Courts Mull NCAA's Stance on Amateurism, Wash. Post (Feb. 2, 2021, 12:00PM), https://www.washingtonpost.com/video-games/2021/02/02/ea-sports-college-football/.
[11] Id.
[12] Jones, supra note 4.
[13] Hume & Maese, supra note 10.
[14] Petition for Writ of Certiorari, NCAA v. Alston, 208 L.Ed.2d 504 (U.S. 2020) (No. 20-512), 2020 WL 7366281.
[15] NCAA Case on Athlete Compensation Set For Supreme Court on March 31, Atlantic (Feb. 1, 2021, 12:01 PM), https://theathletic.com/news/ncaa-athlete-compensation-supreme-court/9Zgc5xkjnWHx.
[16] Melissa Quinn, Supreme Court Takes up NCAA Antitrust Dispute Over Compensation for College Athletes, CBS News (Dec. 16, 2020, 11:09 AM),  https://www.cbsnews.com/news/supreme-court-ncaa-case-athlete-compensation/.
[17] In re NCAA Ath. Grant-In-Aid Cap Antitrust Litig., 375 F. Supp. 3d 1058, 1088 (N.D. Cal. 2019).
[18] Alston v. NCAA, 958 F.3d 1239, 1243 (9th Cir. 2020); Quinn, supra note 16.
[19] Hume & Maese, supra note 10.
[20] Bailey, supra note 8.
[21] Id.
[22] Id.
[23] Id.
[24] Hayes Rule, A Breakdown of Alston v. NCAA, Medium (May 4, 2019), https://medium.com/the-bearfaced-truth/a-breakdown-of-alston-v-ncaa-what-is-the-future-of-paying-college-athletes-3483569905b4