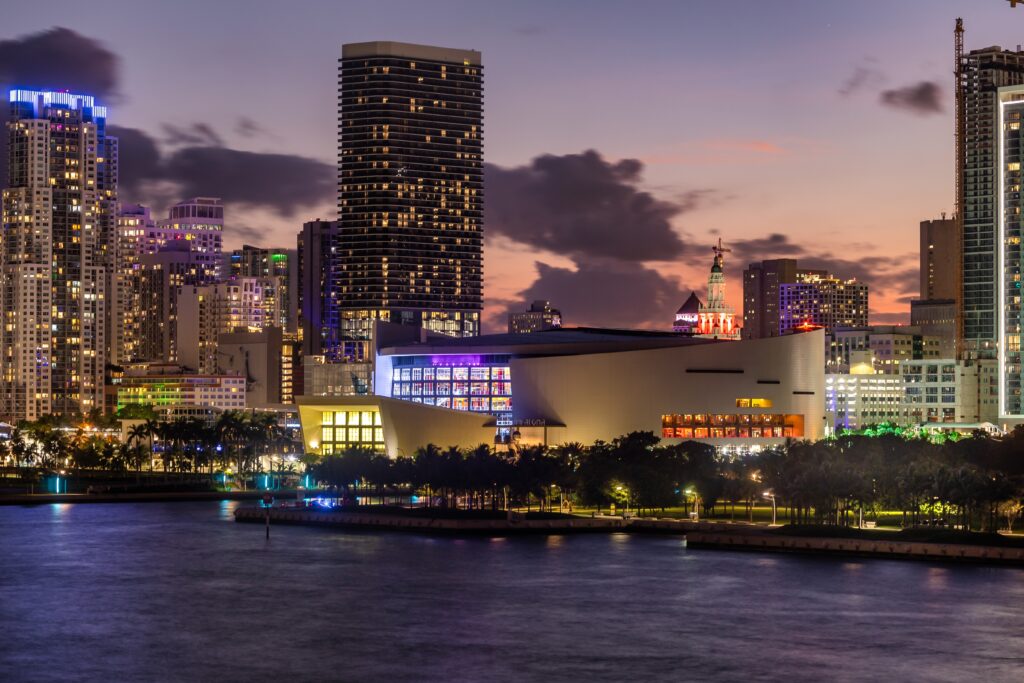 By Sam Kiehl
Anytime you are stuck in a relationship that you want out of, it's tough. But that's especially so when you're only five hundred twenty-six days into a nineteen-year contract with an embattled cryptocurrency exchange that allegedly used customer funds to make risky trades and reportedly owes creditors more than $3 billion.[1]  Fortunately for Miami-Dade County, a federal bankruptcy judge recently terminated the naming rights agreement of the Miami area arena between the county and FTX.[2]
In March 2021, the Miami-Dade County Board of County Commissioners approved a $135 million deal with FTX for naming rights of what was formerly American Airlines Arena.[3]  While $2 million a year went to the Miami Heat, the professional basketball organization that uses the twenty-one thousand capacity arena as its home venue, approximately $90 million of the agreement was allocated to the county's anti-poverty and gun violence mitigation program, known as the Peace and Prosperity Plan.[4]
In response to the announcement that FTX would initiate Chapter 11 proceedings, however, Miami-Dade County and the Miami Heat immediately sought to terminate the business relationship between the parties and find a new naming rights partner for the arena.[5]  On November 22, 2022, the county petitioned the U.S. Bankruptcy Court for the District of Delaware to remove FTX's name from the venue.[6]  This request came just over a month after the arena had finally replaced the aircraft associated with the arena's original sponsor, American Airlines, with FTX's logo on the arena's roof.[7]
Most recently, on January 11, 2023, Judge Dorsey of the bankruptcy court approved a stipulation ending the naming rights agreement between the two parties.[8]  The order, which is retroactive to December 30, 2022, terminated all licenses and other rights granted by FTX to Miami-Dade County in accordance with the original agreement under any trademarks or trade names, including naming rights.[9]  The order does not prevent FTX and the county from asserting additional damage claims under the agreement moving forward.[10]  This means that starting soon, if not already, all FTX signage and advertising will be removed from the arena, which will proceed under the name Miami-Dade Arena until a new naming rights partner is found.[11]  Removing signage is not a small undertaking.  This will include removing FTX's logo from the arena's roof, the basketball court, entrances into the stadium, and even the logo from the polo shirts worn by security.[12]
While a naming rights deal of this magnitude being terminated so quickly into its term is surprising, it is not unheard of.  Remember Enron?  Several years before the Houston-based energy company's massive collapse in the early 2000s, Enron entered a thirty-year $100 million contract with the professional baseball team, the Houston Astros, to acquire naming rights to their stadium.[13]  Less than three years into the contract, the Astros sought to terminate the deal when the Enron scandal became household news.[14]  Unlike FTX, Enron had already paid for the year ahead.[15]  So, despite Enron's bankruptcy filing, the company refused to consent to the Astros' seeking a third party to replace Enron in the naming rights arrangement.[16]  Enron's main argument was that the naming rights contract did not include a provision that allowed the Astros to terminate the contract based on the company's bankruptcy filing.[17]  Ultimately, due to public pressure and bad optics, the Astros agreed to pay Enron's creditors $2.1 million to buy back the naming rights in an out-of-court settlement.[18]
Miami-Dade County and the Heat avoided misfortune to the extent suffered by the Astros, as FTX was already in arrears due to a $5.5 million payment going unpaid on January 1, 2023.[19]  Beyond this, the county learned from the Astros mistake and included a provision in its contract with FTX that said in the event of a default, which included an "insolvency event," FTX would still be liable to pay "all unpaid fees for the three contract years following the date of termination" within sixty days.[20]
An overarching question following this debacle is whether it leads to concerns for another arena that houses the professional basketball team, the Los Angeles Lakers.  The Lakers, following Miami's lead, entered into a massive $700 million twenty-year contract for the naming rights of their arena with another crypto exchange, Crytpo.com.[21]  Miami-Dade County and the Lakers both entered into these contracts worth hundreds of millions of dollars stretching across decades with FTX and Crypto.com during the peak of cryptocurrency in 2021.[22]  Counties and professional sports organizations may have to ask, moving forward, how much consideration should go into assessing the financial creditworthiness and long-term viability of a partner in a naming rights deal?  Or are they just going to continue to ask, who can show me the money?
All in all, while dealing with this fractured partnership has assuredly been tough on Miami-Dade County and its residents, at the very least, they may find some solace knowing that Madonna will be performing at Miami-Dade Arena later this year.[23]
---
[1] Ryan Browne, Collapsed Crypto Exchange FTX Owes Top 50 Creditors Over $3 Billion, New Filing Says, CNBC (Nov. 21, 2022, 9:34 AM), https://www.cnbc.com/2022/11/21/collapsed-crypto-exchange-ftx-owes-top-50-creditors-3-billion-filing.html. 
[2] Dean Budnick, Miami Terminates FTX Arena Naming Rights Deal Following Crypto Exchange's Bankruptcy, Variety (Jan. 15, 2023, 2:00 PM), https://variety.com/2023/music/news/ftx-arena-miami-naming-rights-terminated-bankruptcy-1235490252/; Christina Vazquez, Companies Already Inquiring with Miami-Dade County, Miami Heat Regarding Arena Naming Rights Deal, Local 10 (Jan. 17, 2023, 6:21 PM),  https://www.local10.com/news/local/2023/01/17/companies-already-inquiring-with-miami-dade-county-miami-heat-regarding-arena-naming-rights-deal/. 
[3] Budnick, supra note 2.
[4] Id.; Budnick, supra note 2.
[5] Miami-Dade County and Miami Heat Statement on FTX, NBA.com (Nov. 11, 2022, 6:47 PM), https://www.nba.com/heat/news/miami-dade-county-and-miami-heat-statement-on-ftx. 
[6] Budnick, supra note 2.
[7] Id.
[8] Julia Musto, FTX Bankruptcy Judge Terminates Miami Heat Arena Naming Rights Deal, Fox Bus. (Jan. 11, 2023, 2:38 PM), https://www.foxbusiness.com/economy/ftx-bankruptcy-judge-terminates-miami-heat-arena-naming-rights-deal. 
[9] Id.
[10] Id.
[11] Judge Terminates FTX Naming Rights Deal for Miami Heat Arena, CBS News (Jan. 11, 2023 9:32 PM), https://www.cbsnews.com/news/ftx-miami-heat-arena-naming-rights-deal-terminated/. 
[12] Id.
[13] Charles Bowles & Ed Flynn, Sports Stadiums: What's in A Name?, Am. Bankr. Inst. J., July 2015, at 38, 38 (2015).
[14] Id. at 39.
[15] Id.
[16] Id.
[17] Id.
[18] Id.
[19] Judge terminates FTX naming rights deal for Miami Heat arena, supra note 11.
[20] Sam Reynolds, FTX Owes Miami $16.5M For Arena Sponsorship Cancellation, CoinDesk (Nov. 12, 2022, 1:07 AM), https://www.coindesk.com/business/2022/11/12/heres-how-much-ftx-owes-miami-after-arena-sponsorship-cancellation/. 
[21] Ronald D. White, FTX's Downfall Casts a Shadow Over Other Sports-Rights Deals. What's Up, Crypto.com Arena, L.A. Times (Nov. 18, 2022, 5:00 AM), https://www.latimes.com/business/story/2022-11-18/ftx-was-a-sports-sponsorship-mvp-its-collapse-is-roiling-the-sports-marketing-world. 
[22] Id.
[23] Madonna Announces 'The Celebration Tour', Madonna.com (Jan. 17, 2023), https://www.madonna.com/news/title/madonna-announces-the-celebration-tour.