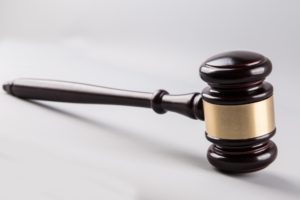 By: Jason Wiener
Francis Dominic Murnaghan, Jr. was born in Baltimore, Maryland on June 20, 1920.[1]  After he received an undergraduate degree from Johns Hopkins University in 1941, he served his country during World War II as a U.S. Naval Reserve Lieutenant from 1942 to 1946.[2]  Upon graduating from Harvard Law School in 1948, he went into private practice in Pennsylvania until 1950 and then served as a staff attorney for the U.S. Department of State's High Commission on Germany from 1950 to 1952.[3]  Before taking the bench, Judge Murnaghan was a partner at Venable, Baetjer and Howard and served as the Assistant Attorney General for the State of Maryland.[4]
From 1967 to 1970, Judge Murnaghan was president of the Baltimore City School Board.[5]  He served as president and then chairman of the Walters Art Gallery from 1963 until being named chairman emeritus in 1985.[6]  Known for his participation in the public and political spheres in Baltimore, he assisted in the successful campaigns of Senator Paul Sarbanes in 1976 and Governor Harry Hughes in 1978.[7]
On May 8, 1979, he was nominated to the U.S. Court of Appeals for the Fourth Circuit by Jimmy Carter.[8]  While on the bench, Judge Murnaghan wrote over 500 opinions and more than half as many concurrences and dissents.[9]  Known for his compassion and professionalism, his opinions had great impacts in the areas of civil rights, labor, First Amendment law.[10]
Although it is rare for a circuit to reverse a district court finding on a clearly erroneous standard of review, in United States v. Gregory, Judge Murnaghan reversed the lower court's finding that the Sheriff of Patrick County, Virginia, was not discriminating against women in the hiring of deputies.[11]  Judge Murnaghan stated that the district court erred in its factual findings and found that the record indicated that Sheriff Gregory routinely engaged in discriminatory practices against women in violation of Title VII.[12]
In a notable dissent, Judge Murnaghan alone argued against the constitutionality of a Virginia statute that allowed the Commonwealth to collect the DNA of all convicted felons for a law enforcement data bank.[13]  Judge Murnaghan believed that the Commonwealth did not justify the statute with an important state interest that outweighed non-violent felons' reasonable expectations of privacy.[14]  He went on to warn of his "deep, disturbing, and overriding concern that, without a proper and compelling justification, the Commonwealth may be successful in taking significant strides towards the establishment of a future police state, in which broad and vague concerns for administrative efficiency will serve to support substantial intrusions into the privacy of citizens."[15]
Judge Murnaghan's contributions helped strengthen the foundations of democracy and equality, and he will be remembered for his devotion to civil rights.[16]  On August 31, 2000, the Honorable Francis Dominic Murnaghan, Jr. died at the age of 80.[17]  Upon his death, the Baltimore Sun avowed, "Judge Murnaghan was one of the most admired figures in the legal establishment for his urbane scholarship, legal knowledge, and public spirit."[18]
[1] Francis Dominic Murnaghan, Jr., Fed. Jud. Ctr., https://www.fjc.gov/node/1385506 (last visited Oct. 14, 2018).
[2] Id.
[3] Id.
[4] Biography of Judge Murnaghan, Francis D. Murnaghan Appellate Advocacy Fellowship, http://www.murnaghanfellowship.org/judge_murnaghan (last visited Oct. 14, 2018).
[5] Longtime Federal Appellate Judge Francis D. Murnaghan Dies at 80, Wash. Post (Sept. 1, 2000),  https://www.washingtonpost.com/archive/local/2000/09/01/longtime-federal-appellate-judge-francis-d-murnaghan-dies-at-80/d1be1771-8f0b-4d10-b094-77d7ac3820ba/?noredirect=on&utm_term=.1823226946fb.
[6] Id.
[7] Id.
[8] Fed. Jud. Ctr., supra note 1.
[9] Biography of Judge Murnaghan, supra note 4.
[10] Id.
[11] United States v. Gregory, 871 F.2d 1239, 1241 (4th Cir. 1989).
[12] Id. at 1247.
[13] Jones v. Murray, 962 F.2d 302, 311 (4th Cir. 1992).
[14] Id. at 312.
[15] Id. at 315.
[16] Biography of Judge Murnaghan, supra note 4.
[17] Fed. Jud. Ctr., supra note 1.
[18] Confirmation Hearing on the Nomination of Claude A. Allen, of Virginia, to be Circuit Judge for the Fourth Circuit; and Mark R. Filip, of Illinois, to be District Judge for the Northern District of Illinois Before the S. Comm. on the Judiciary, 108th Cong. 5 (2003) (statement of Sen. Paul S. Sarbanes).