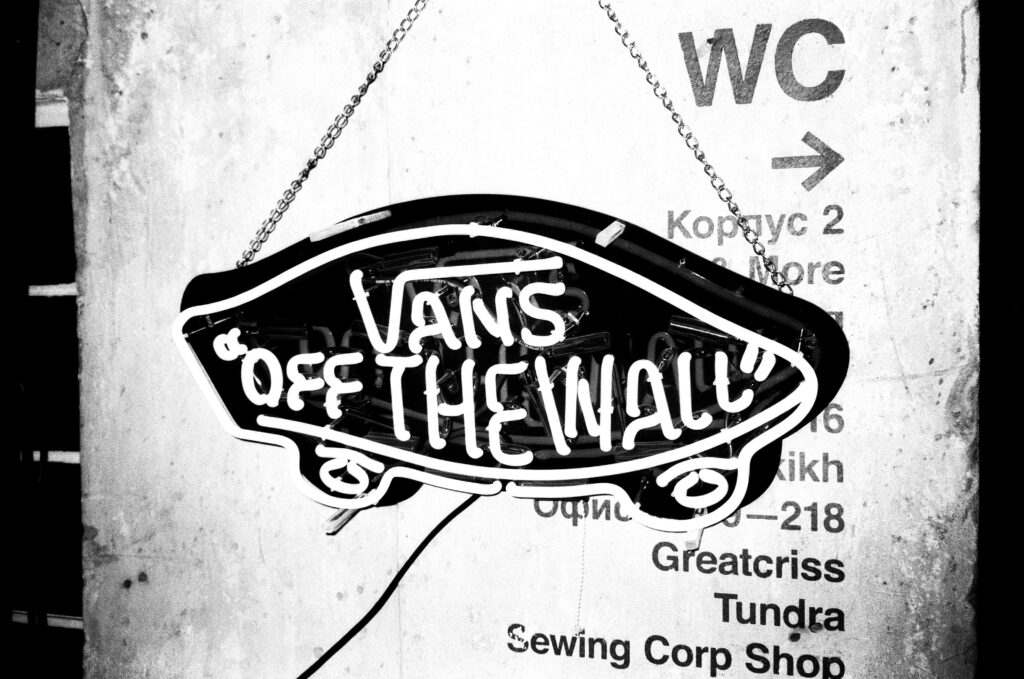 By Luul Lampkins
Earlier this year, Vans, Inc. ("Vans") brought a trademark infringement lawsuit against MSCHF Product Studio Inc. ("MSCHF") seeking a preliminary injunction related to its Wavy Baby sneakers.[1] In response, a federal judge ordered MSCHF to stop shipping the shoes and to cancel any outstanding orders.[2] Vans argued that the Wavy Baby sneakers "blatantly and unmistakably incorporate[d] Vans' iconic trademarks and trade dress" in violation of the Lanham Act.[3]
MSCHF—a Brooklyn-based art collective—designed the Wavy Baby sneakers in collaboration with rapper "Tyga."[4] Aside from Wavy Baby's undulating soles and "waviness," the "non-functional" shoes seem to resemble Vans' Old Skool sneakers.[5] MSCHF's founder and CEO, Gabriel Whaley, described the sneakers as a "'liquified' version of a classic skate shoe silhouette, but with almost all function warped and stripped away."[6] Further, Tyga posted a video suggesting that the Old Skools could be transformed into Wavy Baby by heating them in the microwave.[7]
This is not the first time that MSCHF's shoes have been at the center of a legal dispute. In 2021, Nike sued MSCHF over its "Satan Shoes," arguing that they were "likely to cause confusion and dilution and create an erroneous association between MSCHF's products and Nike."[8] The parties ultimately settled one week after a judge granted Nike a temporary restraining order against MSCHF.[9]
In response to this lawsuit, MSCHF asserted a First Amendment defense, which is "an affirmative defense that requires a court to balance the defendant's expressive interests against the public's interest in avoiding confusion."[10] MSCHF argued that Wavy Baby sneakers are protected under the First Amendment because they constitute social commentary that "challenged the sneakerhead culture Vans participates in, questioned consumerism, and confronted the tension between a virtual and digital world."[11] MSCHF also explained that the shoes were meant to be a "parody and critique [of] modern culture."[12]
The Second Circuit Court of Appeals heard this case on September 28, 2022. On appeal, MSCHF's attorney argued that the district court failed to follow the Second Circuit's precedent in Rogers v. Grimaldi.[13] In Rogers, the court articulated a two-prong test for the protected uses of trademarks. First, the work at issue must be "artistically relevant."[14] Second, the work at issue may not be explicitly misleading.[15]
MSCHF contended that the Wavy Baby sneakers are protected under Rogers because they satisfied both prongs of the test. First, MSCHF argued that Wavy Baby is a work of artistic expression.[16] To support this position, MSCHF pointed to artist Daniel Arsham's statement: "[t]here is not a single artist who would say MSCHF is not an artist, or that the Wavy Baby sneakers are not art."[17] Further, MSCHF argued that Wavy Baby's references to Vans' marks are artistically relevant because they constituted "a parody of and commentary on Vans, whether or not Vans thinks MSCHF's message was successfully communicated."[18] MSCHF explained that there was an "artistic—i.e., noncommercial—association" between MSCHF and Vans rather than an "inten[t] to associate with the mark to exploit the mark's popularity and good will."[19]
MSCHF also argued that the Wavy Baby sneakers were not explicitly misleading.[20] Vans disagreed, arguing instead that the sneakers were likely to give rise to "consumer confusion," thus rendering the sneakers "explicitly misleading as to source."[21] MSCHF contended that Vans misunderstood the holding in Rogers, which explained that "a use is not explicitly misleading unless it is an 'explicit indication,' 'overt claim,' or 'explicit misstatement as to the source of the artwork."[22] To support its contention, MSCHF explained that Wavy Baby shoes are "larger and have a far different visual impression than Old Skool sneakers, and they come with a prominent parody warning label."[23]
This case has brought up questions about the scope of the Second Circuit's opinion in Rogers. While Vans argues that "courts have concluded that commercial products fall outside Rogers' scope," MSCHF asserts that the First Amendment still applies in this context.[24]
As the parties to this lawsuit await an ultimate decision from the Second Circuit, it is important to note the broader implications of this decision. This case illustrates the difference between a parody and a satire. Not all references to an existing mark are parodies. A parody must "make it clear that it does not originate from the mark owner" by commenting on the mark.[25] Satire, on the other hand, "comments on society at large or social trends in general" and must "justify its use of the mark beyond just the humor of doing so."[26]
Parodies and satire are generally considered protected speech—even if they are communicated through a pair of sneakers. Nonetheless, these references to existing marks are only entitled to First Amendment protection if they comport with the requisite standards.
---
[1] Vans, Inc. v. MSCHF Prod. Studio, Inc., 22CV2156WFKRML, 2022 WL 1446681 (E.D.N.Y. Apr. 29, 2022).
[2] Nina Pullano, Vans-Inspired Sneaker Orders Held Up by Federal Judge, Courthouse News Serv. (Apr. 29, 2022), https://www.courthousenews.com/vans-inspired-sneaker-orders-held-up-by-federal-judge/.
[3] Complaint at 3, Vans, Inc., 2022 WL 1446681, https://www.courthousenews.com/wp-content/uploads/2022/04/22cv2156.pdf.
[4] David H. Siegel, The Usual MSCHF, Nat'l Law Rev. (Apr. 29, 2022), https://www.natlawreview.com/article/usual-mschf.
[5] Id.
[6] Declaration of Gabriel Whaley at 19, Vans, Inc., 2022 WL 1446681, https://www.documentcloud.org/documents/21755821-vans-v-mschf-whaley-declaration.  
[7] Tyga (@tyga), TikTok (Apr. 11, 2022), https://www.tiktok.com/@tyga/video/7085456096751799598?is_from_webapp=v1&item_id=7085456096751799598.  
[8] Bryan Pietsch, Nike Sues Over Unauthorized 'Satan Shoes,' N.Y. Times (Mar. 28, 2021), https://www.nytimes.com/2021/03/28/style/nike-satan-shoes-lil-Nas-x.html
[9] Id.
[10] Reply Brief for Defendant-Appellant at 14–15, Vans, Inc., 2022 WL 1446681.
[11] Declaration of Gabriel Whaley, supra note 6, at 19.
[12] Id.
[13] 875 F.2d 994 (2d Cir. 1989). See Oral Argument at 6:28, Vans, Inc., 2022 WL 1446681, https://www.ca2.uscourts.gov/decisions/isysquery/4e5af85a-87c8-4dbe-93ab-35e9b09a0b90/51-60/list/.
[14] Rogers v. Grimaldi, 875 F.2d 994, 1000 (2d Cir. 1989)
[15] Id.
[16] Reply Brief for Defendant-Appellant, supra note 10, at 3.
[17] Id.
[18] Id. at 22.
[19] Id. at 23.
[20] Id. at 24.
[21] Id.
[22] Id.
[23] Id. at 25.
[24] Id. at 11.
[25] Siegel, supra note 4.
[26] Id.