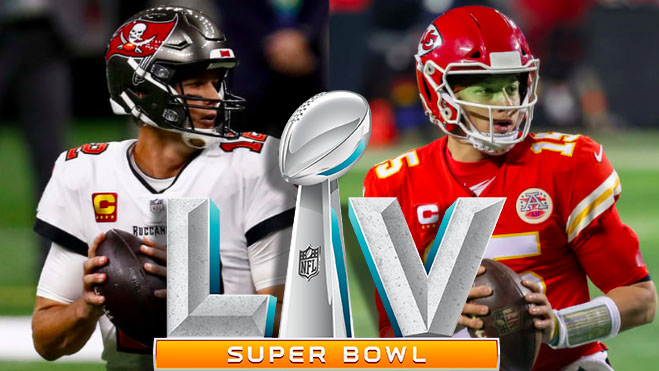 By Blake Witty
This Sunday, nearly one in three Americans[1] will turn to their televisions to watch Patrick Mahomes and the Kansas City Chiefs take on Tom Brady and the Tampa Buccaneers in Super Bowl LV.[2]  The Super Bowl has become a mainstay in American culture and is arguably the most followed and prestigious event on the American sports calendar.  Being such a massive event, one would expect that many small businesses would try to use the Super Bowl name to attract football fans and customers alike to events.  However, this is not the case because of the National Football League's ("NFL") aggressive defense of the trademarked phrase "Super Bowl."[3]  This blog post will look at the NFL's recent history showcasing its fervent desire to protect its trademark and also explore whether the NFL actually has the right to go as far as it does (and if it's even worth it for them).
The NFL has had the Super Bowl trademark since 1969 and has sent many cease and desist letters to businesses allegedly violating the trademark over the years.[4]  The most prominent example of the NFL flexing its trademark muscle was all the way back in 2007 when the League sent a cease and desist letter to the Fall Creek Baptist Church in Indianapolis, which caused the church to cancel their event.[5]  The League claimed the church was violating NFL rules because the church was charging patrons $3 to come watch the game.[6]  While the NFL has since eased its protocols by allowing places of gathering to use the Super Bowl moniker, these places of gathering still cannot charge admission fees to events that are advertised with the phrase "Super Bowl."[7]
There have also been examples of the NFL having success in court in restraining suppliers from using its intellectual property, including the Super Bowl trademark.  For example, in NFL Properties, LLC v. Does 1 Through 100[8], the NFL successfully obtained permission by the court to seek a seize and desist order to stop the defendants from selling counterfeit merchandise and tickets with NFL trademarks ahead of Super Bowl 50.[9]  More recently, in NFL Properties, LLC v. Does 1–200[10], the NFL was granted a temporary restraining order, seizure order, and order to show cause when the defendants were also purported to be planning to sell counterfeit merchandise and tickets that bore NFL trademarks, including the Super Bowl trademark, ahead of last year's Super Bowl.[11]  Further, in NFL Properties, LLC v. Humphries[12], the NFL won a default judgment to dispose of, once again, counterfeit items that bore NFL trademarks.[13]  Finally, in Titlecraft, Inc. v. NFL Properties, LLC[14], the NFL was granted a motion for summary judgement when a company manufactured custom wood trophies that were too similar in appearance to the legendary Vince Lombardi trophy awarded to each Super Bowl champion.[15]  The court held the aspects of the two trophies were similar enough to grant the NFL summary judgment for copyright infringement.[16]  While these cases are not centered on the issue of use of the NFL's Super Bowl trademark by small businesses, they do show one thing: the NFL has had its share of successes in court in regard to protecting its trademarks.
Even considering all of these successes, how far can the NFL really go to protect its trademarks, especially the Super Bowl trademark?  Some commentators argue that the NFL can go quite far, while others are not as convinced.  For example, one commentator advises to not use the words "Super Bowl" at all to promote a business or watch party and to not use the names of the teams competing in the game to advertise.[17]  Another asserts that bars and restaurants should not use "Super Bowl" to advertise their showings of the game and that sweepstakes or giveaways should also avoid using it.[18]  Yet others think the NFL has really strayed out of bounds.[19] One article argues that one cannot trademark factual information and the NFL would only have a trademark infringement claim if a company claimed endorsement from the NFL or used the phrase "Super Bowl" in a very vague way.[20]  For example, few would suspect that a small bar that advertised a Super Bowl watch party is actually sponsored by the NFL.[21]  This potential confusion is what trademarks are truly intended to protect against.[22]  It is also important to note that there is a trademark concept called "nominative fair use."[23]  Under this doctrine, a trademarked phrase or logo is permissible to use as long as there is no suggested relationship between the advertiser and the trademark's owner.[24]  That is why this post and all these other articles are able to use the Super Bowl name.[25]  Maybe these small businesses or bars could also use this doctrine to argue for the use of the Super Bowl name. These small businesses or bars perhaps could say that there is no way a person could reasonably believe that the business or bar was sponsored by the NFL. The NFL would definitely object to this, but it could be an interesting argument.
So what's the actual answer here?  Does the NFL have as broad of trademark rights as it purports, or does it have a weaker case than it lets on?  It appears to me that the NFL likely does have a ton of latitude. Much of the reasoning behind this conclusion is that a small restaurant or bar would likely need to assert its trademark use defense in court: a tall ask given the NFL's vast legal team.[26]  As one commentator puts it: "any small business owner would be an eleventy-billion-point underdog in a courtroom match-up."[27]  So while there could potentially be a case, the NFL's legal resources in addition to their past court successes make any legal challenge difficult.
But there is also the question, is all this even worth it for the NFL? Instead of using the Super Bowl name to advertise, many companies have come up with their own slogans, the most common of which is probably "The Big Game."[28]  Further examples include Budweiser using the term "Bud Bowl"[29] or Animal Planet using "Puppy Bowl."[30]  Fans and consumers clearly know what is being referenced and these phrases are not trademarked so there is no infringement.  There is also a risk of bad publicity if the NFL keeps sending cease and desist letters to small businesses and churches.[31]
So should the NFL actually care about its Super Bowl trademark as much as it does?  They probably still should.  For example, if the NFL allows one small company to use the Super Bowl name, this single snowflake could form a snowball in which others want to use the name, leading to an avalanche that the NFL might not be able to stop.[32]  And again, with the NFL having such a large amount of legal resources[33], it probably is not that much of an inconvenience.  To top it off in regard to any bad publicity: the NFL probably does not "care about a few fans who get annoyed."[34]
Thus, the answer to our overall question is yes, the NFL probably does have the latitude to defend its Super Bowl trademark as much as it does (or it at least has the resources to defend its actions) and yes, all this is probably worth it for the NFL.  So if you are thinking about hosting a watch party at your local bar or planning some sort of gathering for the game in which you'll charge admission, it might be a good idea to not use the name "Super Bowl."  Just like all of us, the NFL is watching.
---
[1] Helen Coster, Super Bowl TV Audience Rises Slightly to 99.9 Million Viewers, Reuters (Feb. 3, 2020, 3:19 PM), https://www.reuters.com/article/us-football-nfl-superbowl-ratings/super-bowl-tv-audience-rises-slightly-to-99-9-million-viewers-idUSKBN1ZX2LI.
[2] Cody Benjamin, 2021 Super Bowl Sunday: Everything to Know About Super Bowl LV with Time, TV, Odds, How to Watch and More, CBS Sports (Feb. 2, 2021), https://www.cbssports.com/nfl/news/2021-super-bowl-sunday-everything-to-know-about-super-bowl-lv-with-time-tv-odds-how-to-watch-and-more/.
[3] James Leggate, NFL's Super Bowl Trademark Is Why Some Companies Call It 'The Big Game', Fox Business (Jan. 28, 2020), https://www.foxbusiness.com/markets/nfl-super-bowl-trademark-why-some-companies-call-big-game.
[4] Id.
[5] Marcus Baram, NFL Sacks Super Bowl Church Parties, ABC News (Apr. 14, 2009, 8:22 AM), https://abcnews.go.com/US/story?id=4229536&page=1.
[6] Id.
[7] Michelle Kaminsky, Super Bowl Legal Blitz: Inside the NFL's Legendary Trademark Defense, Forbes (Jan. 30, 2018, 6:20 AM), https://www.forbes.com/sites/michellefabio/2018/01/30/inside-the-nfls-legendary-trademark-defense/?sh=37eb44203293.
[8] NFL Properties, LLC v. Does 1 Through 100, No. 16-CV-00474, 2016 WL 9223833 (N.D. Cal. Feb. 2, 2016).
[9] Id. at *1, *3.
[10] NFL Properties, LLC v. Does 1–200, No. 20-CV-20265, 2020 WL 7493120 (S.D. Fla. Jan. 28, 2020).
[11] Id. at *2–3.
[12] NFL Properties, LLC v. Humphries, No. C 16-474, 2016 WL 2606708 (N.D. Cal. May 26, 2016).
[13] Id. at *1–2, *4.
[14] Titlecraft, Inc. v. NFL Properties, LLC, No. 10-758, 2010 WL 5209293 (D. Minn. Dec. 20, 2010).
[15] Id. at *1, *4.
[16] Id.
[17] Superb Owl or Super Bowl Trademarks, Intell. Prop. Ctr. (Feb. 1, 2019), https://theipcenter.com/2019/02/superb-owl-or-super-bowl-trademarks/.
[18] Wilkinson Barker Knauer, LLP, As Super Bowl Approaches, Advertisers Should Be Aware of the NFL's Efforts to Protect Its Golden Goose – 2018 Update on Super Bowl Advertising and Programs, Lexology (Jan. 11, 2018),  https://www.lexology.com/library/detail.aspx?g=86464d4b-5b77-4bb8-ad2a-12f9a7204d71.
[19] Timothy Geigner, It's That Time of Year: No, the NFL Can't Stop Every Business From Using 'Super Bowl' in Every Instance, Techdirt (Jan. 31, 2020, 9:34 AM), https://www.techdirt.com/articles/20200130/10363443827/that-time-year-no-nfl-cant-stop-every-business-using-super-bowl-every-instance.shtml.
[20] Id.
[21] Kaminsky, supra note 7.
[22] Id.
[23] Wilkinson Barker Knauer LLP, supra note 18.
[24] Id.
[25] Leggate, supra note 3.
[26] Kaminsky, supra note 7.
[27] Id.
[28] Geigner, supra note 19.
[29] Leggate, supra note 3.
[30] About Puppy Bowl, Animal Planet, https://www.animalplanet.com/tv-shows/puppy-bowl/about (last visited Feb. 2, 2020).
[31] Baram, supra note 5.
[32] Leggate, supra note 3.
[33] Kaminsky, supra note 7.
[34] Baram, supra note 5.
Post image of quarterbacks Patrick Mahomes and Tom Brady created by Wake Forest Law Review Online staff using official NFL imagery, courtesy www.nfl.com.